MARC REBILLET: Drive-In Tour (Charlotte, NC) - Thursday June 11th, 2020 - Hound's Drive In, Kings Mountain, NC
---
presents
DRIVE-IN TOUR:
A (SOCIALLY DISTANCED) LIVE EXPERIENCE ++ SHORT FILMS & much more!
BENEFITTING THE GLOBALCITIZEN CORONAVIRUS RELIEF FUND
Date:
UPDATED Doors: 6:30PM / Show: 9:00PM
Venue:
*located just 30 mins outside Charlotte, NC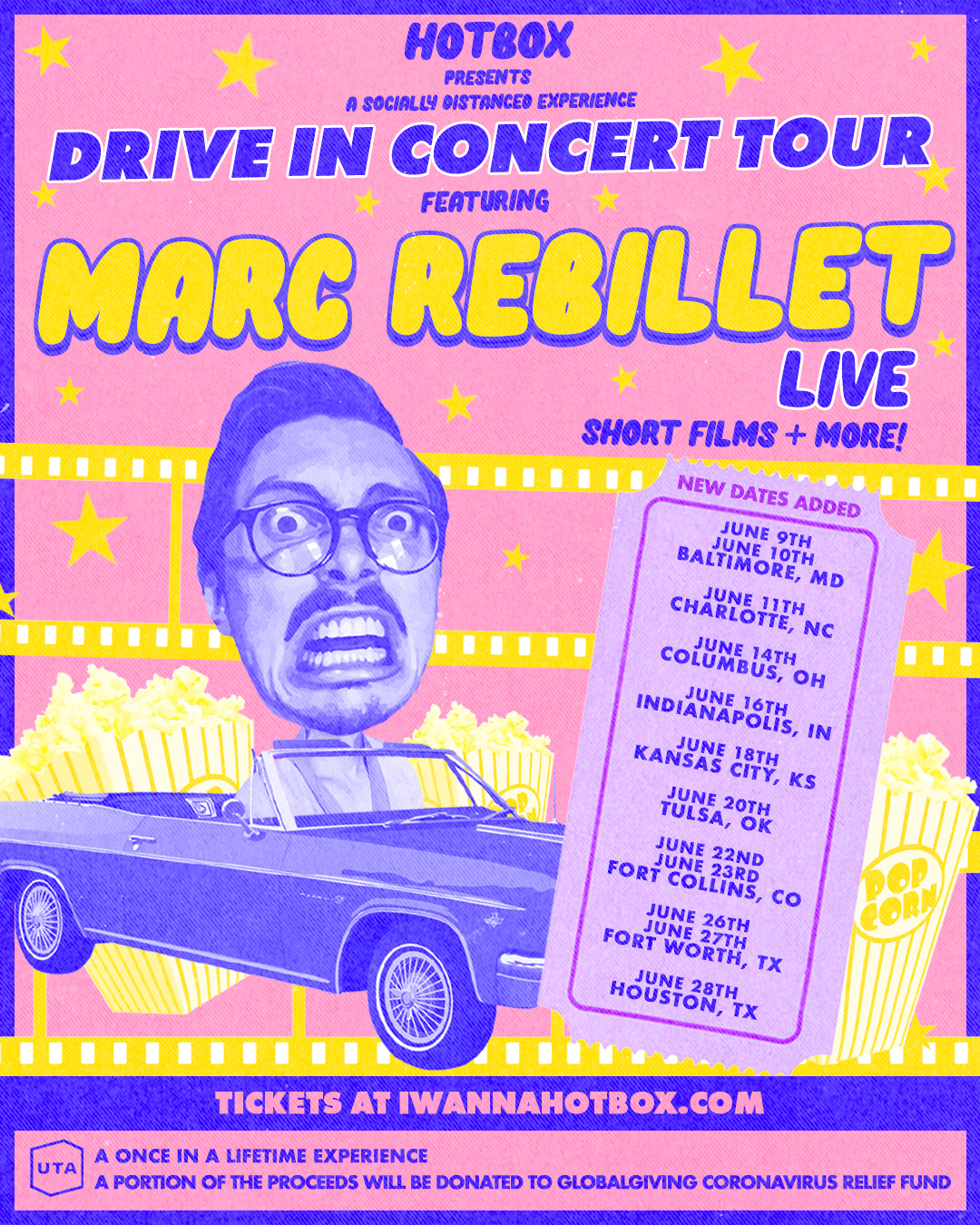 ---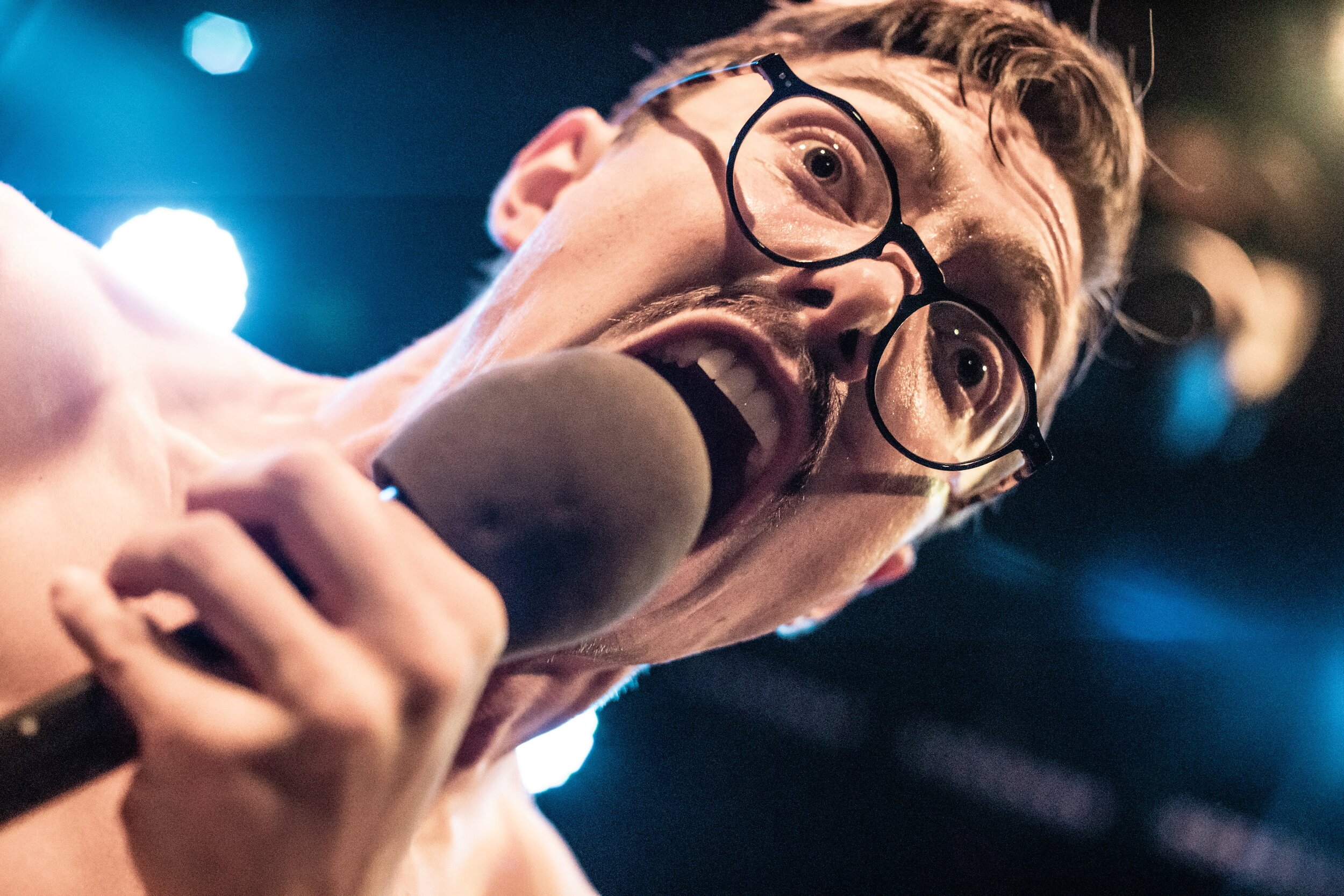 Viral sensation and electronic musician Marc "Loop Daddy" Rebillet announced that he will embark on the first-ever drive-in concert tour at movie theaters throughout the US.
The tour is set to begin in June and a portion of all proceeds will be donated to GlobalGiving Coronavirus Relief Fund. The concerts will remain compliant with individual state social distancing regulations, allowing fans to enjoy the show from the safety of their own vehicles.
The tour will forgo traditional opening acts and will instead embody a standard drive-in movie experience by showcasing short films. The shows will still provide elements of a typical concert experience, granting fans the ability to purchase artist merchandise, food, and more, in a safe way.
.
---


Guidelines / Health Compliance / Rules
HOTBOX is excited to present Marc Rebillet's Drive-In Experience Summer Tour!
This unique cinema and concert experience is the first of its kind in America and features live performances by Marc Rebillet, short films and comedy. The event follows social distancing guidelines and the event producers want you to have a safe, fun time at this incredible experience.
We are following all CDC guidelines. Cars will be parked at their minimum distance in accordance to each state's safety recommendations. Guests are required to remain in their vehicles at all times with the exception to use the restroom. All drive-in staff will be wearing gloves and face coverings and tickets can be purchased online ONLY to ensure contactless payment. There are no refunds (unless event is cancelled), no re-entry and all sales are final.
Audio will be transmitted through your vehicles FM Stereo, so please check and ensure your car has working speakers and radio. Please turn your key to accessory mode to keep your stereo on. You are allowed to bring portable boomboxes and stereos if you don't have a functional car stereo.
We ask that restrooms be used for emergencies only during the show, maintaining social distancing.
In order to provide the safest and best Drive-In Movie Concert Experience, we require each participant to observe the following rules:
If you are sick, running a fever or have been exposed to COVID-19, please stay home until you are healthy.

Per contact tracing standards, NO TICKETS WILL BE TRANSFERRABLE. YOUR ID MUST MATCH NAME ON THE TICKET. No Exceptions, All Others will be denied entry...

Please be ready to provide us with your license plate, make, and model of your car.

Only attendees within vehicles are allowed to attend this event.

No refund requests, transfers, or exceptions will be granted (unless the event is cancelled outright). This event is rain or shine.

There are a limited number of vehicle passes available at each concert, so act fast!

It is a 2 person per car minimum, with a maximum of 4 people per car.

Car windows are only allowed to be rolled down 2 inches from the top.

We encourage carpooling ONLY with people in your immediate quarantine circle.

There is absolutely no leaving your vehicle unless there is an essential need, i.e. bathroom breaks.

Absolutely no sitting on our car, standing on your car or exiting the vehicle before, after or during the event.

Bathroom breaks will be scheduled by row every 15 minutes to ensure safety and sanitation can be followed to the highest level of excellence.

Entry to the venue will be cutoff 15 minutes prior to show time at 8:45pm. No late entry will be permitted under ANY circumstance. Arrive early!

We suggest arriving up to an hour before the show -- drive-in parking is first-come-first serve.

All audio will be streamed via FM transmitter. Please make sure to arrive with a working FM radio in your vehicle or you will not be able to listen to the show.

All concessions will be paid via card, there will be absolutely no cash transactions.

All concessions will be delivered to your vehicle after ordered and the event will hand you an ordering card to fill out.

Absolutely no alcohol and/or illegal substances will be permitted at the event or inside your vehicle and violators will be held accountable and prosecuted by state and federal law.

For the safety of the guests, no one is allowed to sit in chairs outside of their car, all attendees regardless of age must remain in their vehicle at all times, no recreational activities such as frisbee, baseball, or running is allowed.

We require that you follow the current CDC guidelines in your state during this time. That means bring a mask, gloves, sanitizer.

The event producers may choose to provide masks or sanitizer for each event. Guests are highly recommended to provide their own. We cannot guarantee availability and if provided, will be done so on a first come, first serve basis.

Absolutely no standing outside of the venue or gatherings outside of the venue will be allowed and will be enforced by security.

No pets are allowed.

Drivers caught concealing other persons in their vehicle will be turned way or asked to leave without a refund. All vehicles subject to search.

Absolutely no illicit goods, no fireworks, weapons or guns, knives or laser pointers.

Big trucks and SUVS may be directed to the back of the lot so you do not block the screen.

Tickets can be purchased online only, there will be no box office onsite. Please head to the ticketing page to purchase tickets.
Thursday, June 11, 2020
6:30pm - 11:00pm EDT
HOTBOX
About
Blaze a new path forward with us.