6:30PM SHOW = +90% SOLD OUT!
9:30PM SHOW = SOLD OUT
PLEASE NOTE THAT LATE SHOW IS NOW MOVED TO 8:30
---
presents
SHOW 1 (Sunset): 5:00PM DOORS | 6:30PM SHOW
SHOW 2 (Late): 8:30PM DOORS | 9:30PM SHOW
Venue:
IS MAJOR LAZER PERFORMING LIVE or IS THIS A PRE-RECORDED SHOW?
MAJOR LAZER will be performing for you LIVE and IN-PERSON at the Drive-in!
We do not associate with any of the pre-recorded things like Garth Brooks or Blake Shelton.
HOW DOES THE TICKET PRICING & PARKING WORK?
Tickets are sold PER VEHICLE (it's a group ticket) - Allowing up to a MAX of (4x) People Per Vehicle.
Additional Passenger tickets are available for purchase for $45.
Prices are the equivalent of $30-$75 / per person, based on how close you'd like to be to the stage, similar or less than a normal theater show would work.
Sections are divided into VIP (First 4x Rows), Section A, and B (the largest section & most inexpensive). Parking is first-come-first-serve within your section.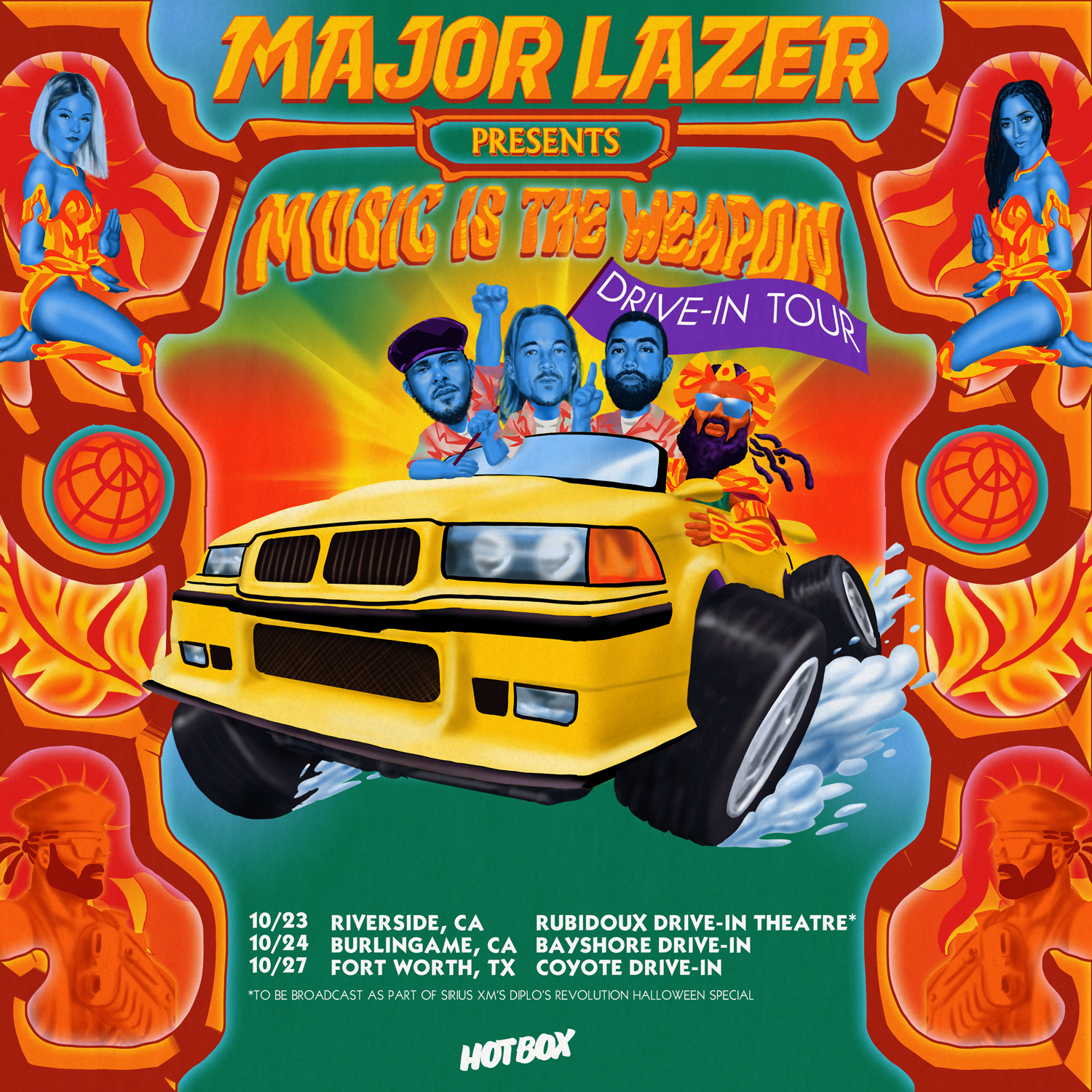 ---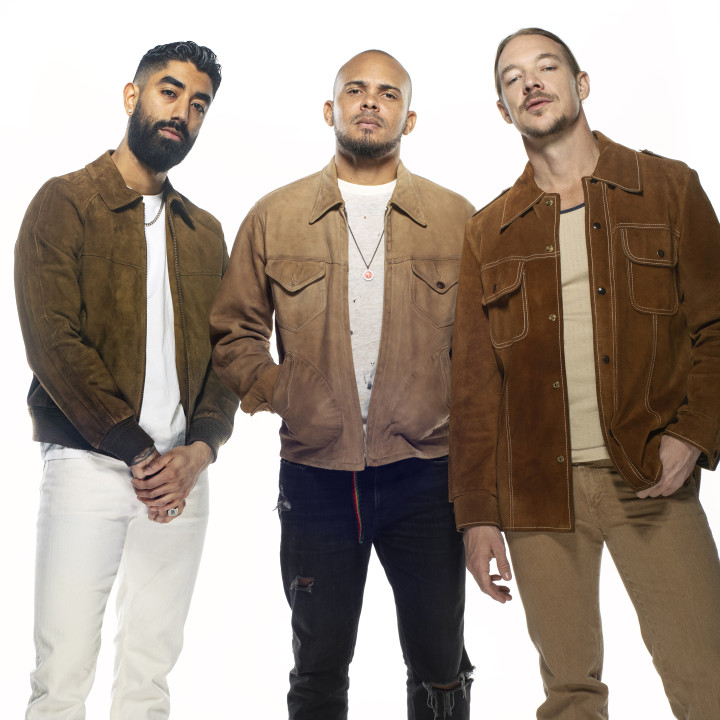 In the beginning... Under the guise of a Trinidadian dancehall club owner, a Jamaican hero commando who lost an arm in the Zombie Wars suddenly re-emerged with a lazer gun in the place of his missing limb. Since 2009, Major Lazer has enlisted the likes of Bruno Mars, Pharrell Williams, Vybz Kartel, Nicki Minaj, Justin Bieber, Ariana Grande, Anitta, J Balvin, Travis Scott, Sean Paul and Mr Eazi to become the saints and prophets of Lazerism; helping to defeat the forces of evil that plagued the world through music and dance. During that time, Major Lazer released Guns Don't Kill People, Lazers Do, Free The Universe and Peace Is The Mission; and in the process, reshaped the sound of music as we know it. The music brought together billions of souls to hear Major Lazer proclaim the message of unity as they toured the globe. By then, Major Lazer felt his earthly work was done, and he disappeared from mortal view. Yet the peace was not to last, and the world seethed with doom once more. So with Walshy Fire's help, the Grammy award winning, genre-smashing, hit-making, culture-moving Diplo invoked Major Lazer to return. Hearing their pleas, Major Lazer gave the duo the secret to lasting peace for humanity, sharing it in the form of music. He tasked Diplo and Walshy to bring the world back to a place of wonder and oneness, with the release of
Music is the Weapon
, and a reminder that we are able to be at blissful peace when we recognize and harness the light in each other!
---
Guidelines / Health Compliance / Rules
HOTBOX is excited to present Major Lazer: Music Is The Weapon Drive-In Tour in SOUTHERN CALIFORNIA!
The event will maximize social distancing guidelines and the event producers want you to have a safe, fun time while observing all local & state health guidelines.
Bayshore Drive-In will be following all CDC & local health guidelines. All drive-in staff will be wearing PPE and tickets will ONLY be allowed to purchased online to ensure contactless payment. There will be no re-entry and all sales are final.
Audio will be transmitted via FM transmission through your vehicles FM Stereo. Pls check and ensure your car has working speakers and radio. Please turn your key to accessory mode to keep your stereo on without idling your car.
We ask that restrooms be used for emergencies only during the show, pls remember to maintain social distancing in line.
MASKS ARE MANDATORY & REQUIRED FOR ADMISSION. Please respect the safety and experience of others.
In order to provide the safest and best Drive-In Concert Experience, we require each participant to observe the following rules:
• If you are sick, have a fever or have been exposed to covid-19, please stay home. We encourage attending the event with others only within your quarantine circle.
•
MASKS ARE MANDATORY & REQUIRED FOR ADMISSION.
All guests without proper face coverings will be turned away, without refund. All drive-in staff will be wearing PPE.
• Per contact tracing standards, No Tickets Will Be Transferrable
.
YOUR ID MUST MATCH NAME ON THE TICKET. No Exceptions, All Others will be denied entry...
• All vehicles are subject to security search at any time.
• Attendees must have current, government issued ID with date of birth and photo (i.e. driver's license, passport, military ID, etc)
• All events are
Rain or Shine.
No refunds
• No refund requests, transfers, or exceptions will be granted
• Your entire party must arrive within one vehicle, at one time.
•
Arrival by Lyft/ Uber is not permitted
and there will be no overflow parking available.
•
No trash should be left behind
. Leave your space as you found it.
• Please pay attention to all exit announcements as well as the instruction from parking attendants at the end of the show. This will allow every-one to get out efficiently and in a timely manner.
• No oversized vehicles, RV's, buses, etc.
PROHIBITED ITEMS
The following items are not permitted of venue grounds:
NO Bags larger than 5.5" x 4.5"

NO Outside Food or Beverage

NO Alcoholic Beverages

NO Drugs or Drug Paraphernalia

NO Weapons of Any Kind

NO Pepper Spray or Mace

NO Professional Cameras.

NO Hulu Hoops or Flow-Toys

NO Air Horns or Noisemakers

NO Laser Pointers

NO Drones

NO Fireworks or Explosives

NO Pets


Guests may be allowed to be stand directly within 3' front of their vehicle area, sit inside their vehicle, sit atop their vehicle, or in their trunk/truck bed. No guests will be allowed to leave their vehicle area that would not otherwise maximize social distancing. Please respect each other's space. Security will be on-site to enforce social distancing. Rules are subject to change per the venue's request.
Entry to the venue will be cutoff at the time mentioned on the ticket description as to not disturb the peformer or the attendees. No late entry will be permitted under ANY circumstance. No refunds for late entry. Arrive early!
Entry & Parking into a sold out drive-in concert can take up to 40-75 minutes --- there are several hundred vehicles who are being parked at the same time. Please arrive early, be patient, and be aware this process will not be as immediate as a normal parking lot at a theater.
We suggest arriving early -- drive-in parking is first-come-first serve, per section -- Sections are delineated via the Parking Map above.
Concert audio will be available via FM Transmission -- pls ensure you have a working stereo.
There will be multiple giant 80' video screens at the venue in addition to a large festival stage where the artist will be performing.

Venue will supervise all concessions. Concessions will be paid via credit card or touchless, there will not be cash transactions.
We require that you follow the current local & CDC guidelines during this time. That means bring a mask, sanitizer, etc.

Bathrooms are cleaned and disinfected regularly.

Please wash or disinfect your hands and avoid touching any surfaces before returning to your vehicle

Observe social distancing when waiting in line for the bathroom.

Wash your hands frequently and avoid touching surfaces after doing so. Proper hand washing should include soap, water and at least 20 seconds
HOTBOX
About
Blaze a new path forward with us.