Join us for a jaunt Down Under! Step into our multi-sensory dining experience where you will enjoy a five-course meal with wine pairing. Each course is uniquely inspired by the sights, sounds, and scents of Australian landscapes developed by chefs Renee Scharoff and Claudette Zepeda.

We can't wait to show you around our backyard…

Cheers,
The True Aussie Team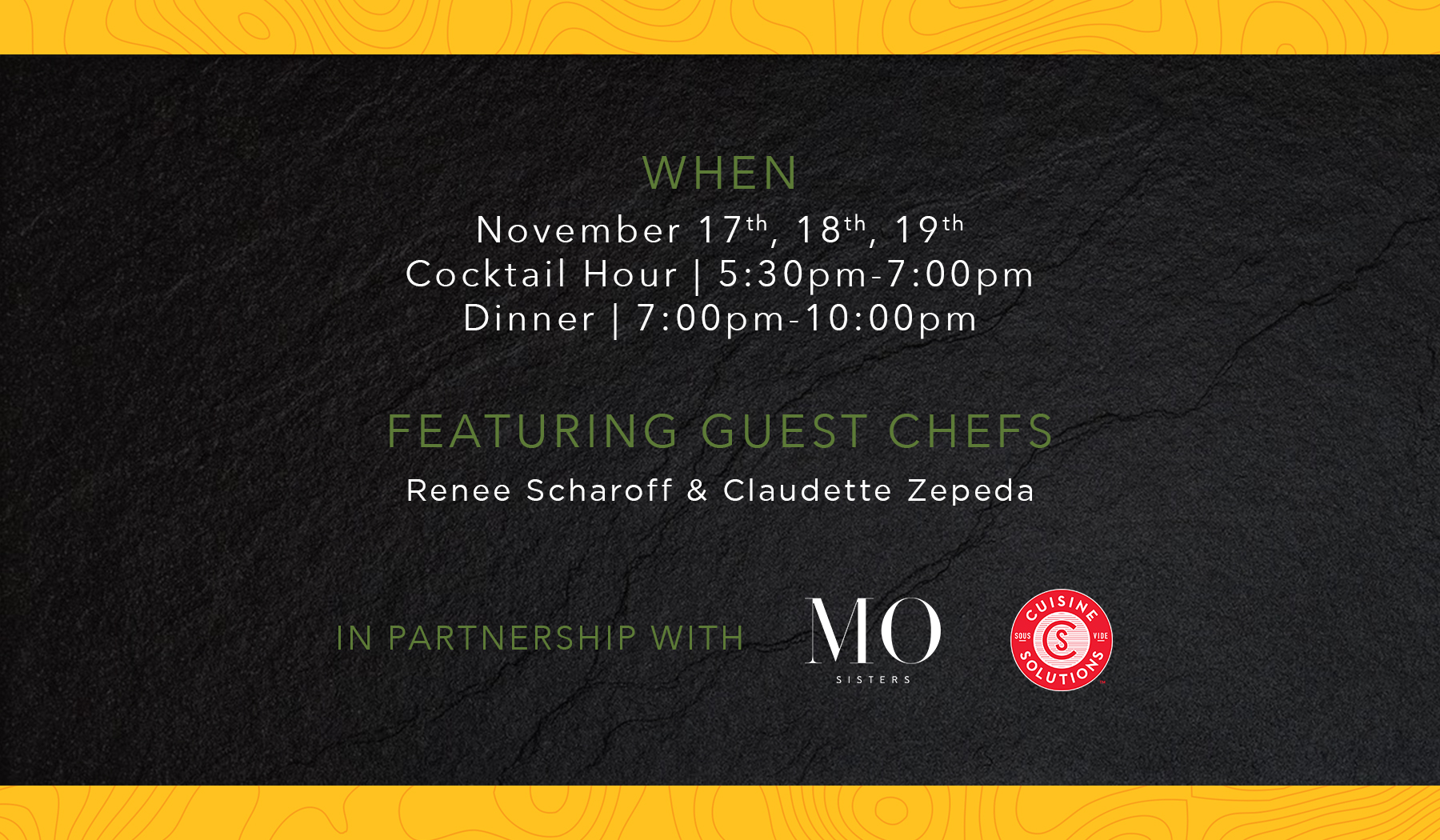 About True Aussie Beef & Lamb:

At True Aussie, our goal is to help home cooks and food professionals in America achieve success with Australian beef and lamb. It starts with education about Australia's unique pasture-based production practices and how Aussie family farms contribute to delivering environmentally sustainable and high-quality products to the world. We get directly involved with culinary support, through product development and menu ideation. When Aussie meat hits the menu or the meat case, we are there with customized marketing support from resource support to full creative activations. All the while, our social media, and consumer outreach help build a hunger for Aussie grass-fed beef and lamb.

Chef Bios:
Renee Scharoff is long on knowledge and experience. She's professionally trained by the Connecticut Culinary Institute and has worked in kitchens around the world: from preparing lavish private dinners in the south of France to catering galas for European aristocrats and American political royalty. She's also former pastry chef for western Massachusetts' acclaimed Federal Restaurant. But what really sets Renee apart from other chefs? It's the fun and flair she brings to her work. "I love to take classic concepts and put a cheeky spin on them," says Renee, whose effervescent personality - smart, striving and sassy - is as appealing as her every plate. Renee was raised on a Connecticut farm, where an appreciation for fresh and locally sourced food developed, well, organically. But she was also exposed early on to the glamorous fashion world: her mother, a former model, ran her own agency - and threw some pretty decadent dinner parties. "Mine was a home where fashion and food went hand in hand," says Renee. Today, Renee operates Blonde on the Run Catering in Boston, Massachusetts, a cafe on the CapeFLYER train serving local artisan products and a farm property in Connecticut where they host fabulous parties amongst the flowers, fields, and bees.

Claudette Zepeda is James Beard Best Chef West semifinalist and s a San Diego-based chef most recently known for her time as the executive chef & partner behind El Jardín, a regional Mexican restaurant in San Diego. During her tenure, El Jardín received a glowing review from the New York Times, inclusion on Esquire's 2018 Best New Restaurants, and recognition from Michelin on their 2019 Bib Gourmand list. Zepeda was named both Eater San Diego and San Diego Union Tribune's Chef of the Year in 2018. Prior to El Jardín, Zepeda was chef de cuisine at Javier Plascencia's celebrated Bracero and also spent time alongside chef Gavin Kaysen at his former San Diego restaurant, El Bizcocho. Known for her fearless culinary style and bold approach to regional Mexican cuisine, Zepeda was a member of Buzzfeed's inaugural Tasty talent program and former Top Chef Season 15 + Top Chef Mexico competitor. She continues to find inspiration from her frequent visits to Mexico.
Tue, Nov 19 - Thu, Nov 21
True Aussie
About
Join us for a jaunt Down Under! Step into our multi-sensory dining experience where you will enjoy a five-course meal with wine pairing. Each course is uniquely inspired by the sights, sounds, and scents of Australian landscapes developed by chefs Renee Scharoff and Claudette Zepeda. We can't wait to show you around our backyard… Cheers, The True Aussie Team