The 4th Annual Tahoe Brewfest!
We will be cheersing to more than our friends and our community, we will also be honoring all of our heroes who have helped and are still helping fight the Caldor Fire.
We can't wait to see you there!
This is a 100% family-friendly event, with the kid-zone off to the side of Tahoe Brewfest.
100% of the proceeds from Tahoe Brewfest support the Boys & Girls Club of Lake Tahoe. There will also be other fantastic organizations in attendance you can support to help rebuild our community.





We appreciate your support!

Refunds will be given, no questions asked, by emailing your order # tahoebrewfest@bgclt.org by EOD Thursday, September 23rd.
The Boys & Girls Club of Lake Tahoe and Tahoe Brewfest Team holds everyone who has been affected by the fires in our hearts and are raising our glasses to the amazing crews keeping us all, as safe as they can.
Further information on Tahoe Brewfest can be obtained from our Event Director, Nicole Marsel, at tahoebrewfest@bgclt.org
The Date: September, 25th 2021!
The Venue:
Lake Tahoe Community College
The Family:
Even though it's all about the beer, we didn't forget about the kiddos. Plenty of games/activities like cornhole, bounce houses, a rock wall, giant jenga and face painting.
The Music:
4 hours of solid jams with
Bread & Butter
and
Mescalito
The Silent Disco:
We'll be having the Silent Disco again with LIVE DJs.
The Beer Lineup:
Expect endless samples of the best brews, a convoy of food trucks, and talented craft vendors! Plus, what's better than great beer, fun friends, AND Lake Tahoe all mixed together in one? View our website and Facebook page to stay updated on participating breweries.
BONUS EVENT:
From 1130AM to 5pm, there will be a free community event with fire trucks, bounce houses, a rock wall, speeches by the mayor and first responders who worked on the Caldor Fire, and even Smokey Bear. Tahoe Brewfest begins at 12pm for VIP ticket holders and 1pm for General Admission ticket holders. Come thank some of the amazing men and women who have worked on the Caldor Fire and support those who have been impacted by this terrible fire season. For more information on the community event
CLICK HERE.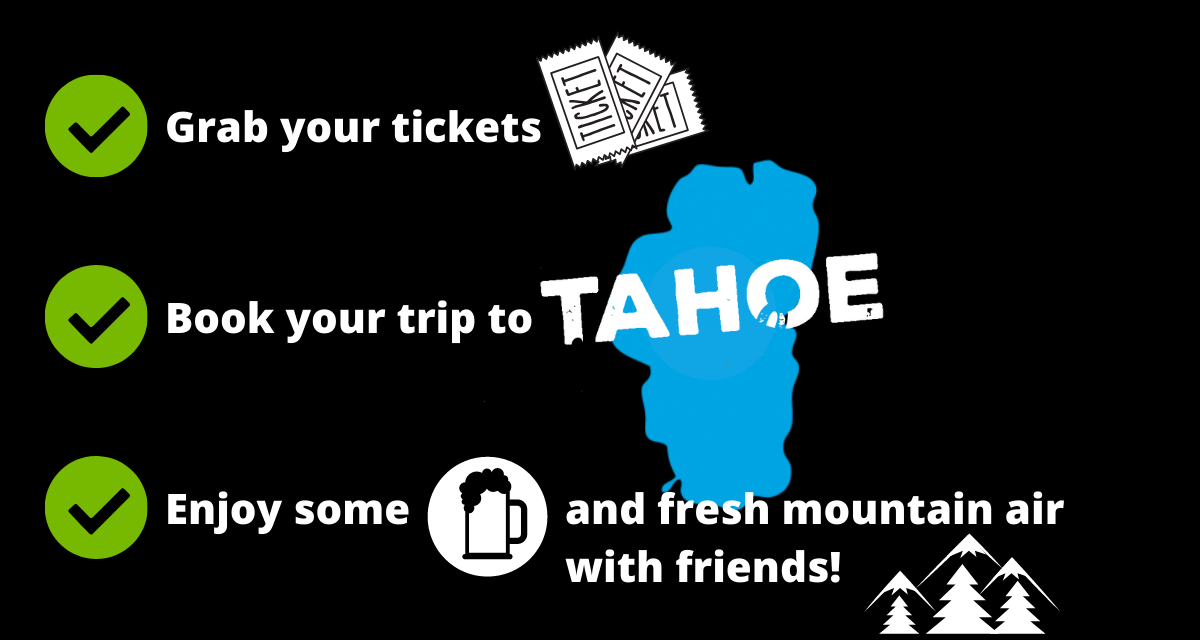 Saturday, September 25, 2021
12:00pm - 4:00pm PDT
Tahoe Brewfest
About
TAHOE BREWFEST celebrates all that is special about our mountain culture; our beer, our crafts, our mountains and most of all, our community. We welcome beer lovers from all over the world to enjoy a beautiful day of brew in South Lake Tahoe, CA. Rain, snow or shine, every day in the mountains there's a reason to cheers and we'll have nothing but professionals ready for you to do just that. Over 21 but not drinking? You are still going to have an amazing time! There's more than just beer, we have unlimited samples of craft sodas, kombucha, live music, silent disco, great food and awesome local merch to check out. And hey, how about offering to be your friends designated driver and getting them to buy your ticket? Free parking will be provided at the event in the lower lot of Cal Lodge. Also, many of our lodging partners are within walking distance. Or, be responsible and line up your Lyft or Uber! Biking to Brewfest? If you feel like burning some extra beer calories and taking the uphill battle, there will be bike racks available at Cal Lodge. Grab your unlimited beverage samples, a bite from a delicious food vendor and find a sweet spot for the music. It's Tahoe Brewfest, everyone's invited! (Except dogs and other animals, sorry!)