This New Year's Eve, don't settle for just any subpar party. End the year feeling great on a magnificent yacht sailing atop the San Diego Bay. If you're looking for the perfect way to end 2018, look no further than the Rock The Boat: New Year's Eve Party Cruise. Expect a night of thrills, drinks galore, amazing views, and great music. Don't let this one-of-a-kind NYE San Diego yacht party pass you by. Order your tickets now, before it's too late.
NYE San Diego Yacht Party
You'll end your year in style at this NYE San Diego cruise aboard the Adventure Yacht. This multileveled beauty has two climate-controlled interior decks. Both of which are well decorated and very spacious. You'll feel as though you're in a really nice restaurant, or ballroom at sea. What better way to end the year than that? There's also a sky deck where you can get some fresh air with those great views of the coastline.
We wouldn't call this an epic NYE San Diego Yacht party if we didn't have the proper amenities. That's why we're bringing aboard a top-tier DJ to solidify the right atmosphere. They'll be spinning a mix of the hottest in Pop, Hip-Hop, RnB, Electronic, and Top 40 Hits.
Don't sail into 2019 on empty stomach. Our servers will be walking around with a plate of delicious hors d'oeuvres for you to pick from. You could also head to the buffet area and grab some yourself. While you're at it, head to the bar and let one of our bartenders fix you up something delicious. We're even throwing in a 4 hour open bar, so don't let it go to waste.
This party cruise will be the premier NYE San Diego event. Come join us for what will most definitely be an unforgettable party experience. Go tell your friends, get your plans together, buy a sweet outfit; and order those tickets! Don't hesitate, secure your spot on this New Year's Eve party cruise and start 2019 on top.
Don't keep all those amazing pictures and videos that you're going to take for yourself. Share this wonderful experience on social media, and be the envy of all your followers. While you're at it, don't forget to tag us on those pics and vids on Twitter, Facebook, and Instagram!
Boarding: 8:30PM
Departing: 9:00PM
Returning: 1:00AM
Age Requirement: 21+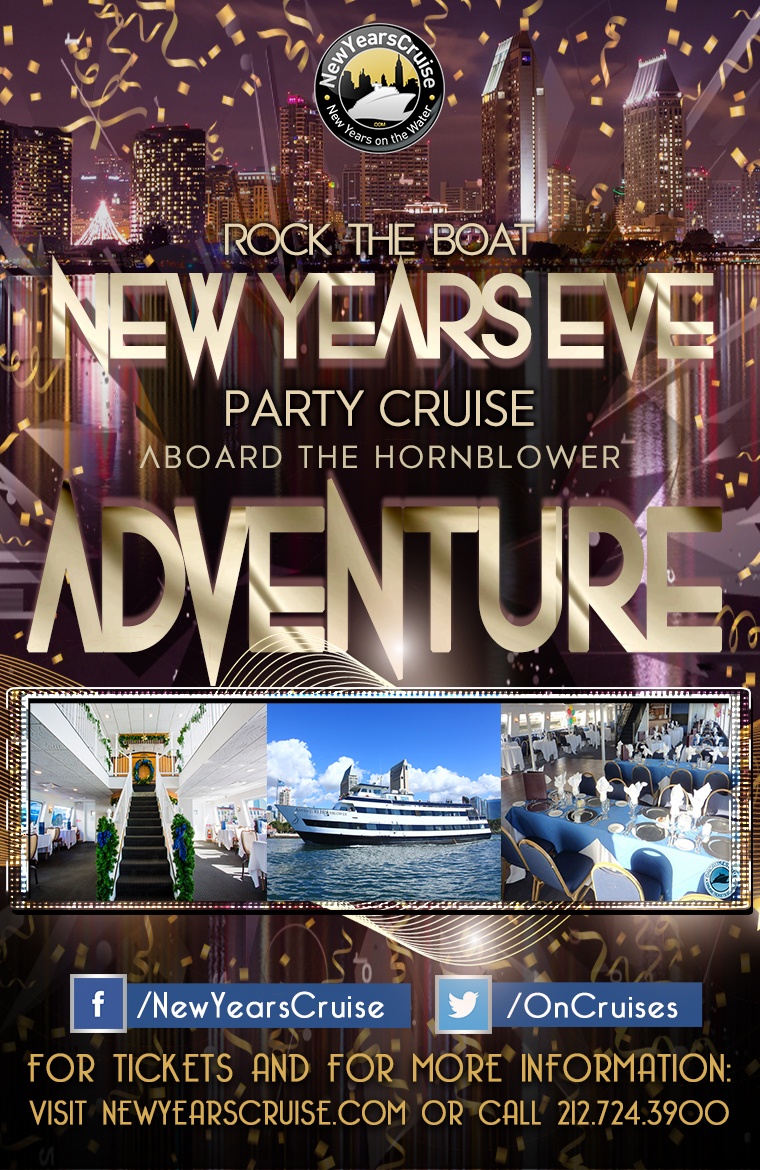 Monday, December 31, 2018
8:30pm - 1:00am PST
iEvents.com
About
Welcome to the premier source for Tickets Events across the Nation! We sell tickets for all major holidays including: New Year's Eve, Halloween, Fourth of July, Labor Day, Memorial Day and more.