TICKETS WILL BE AVAILABLE
ARRIVE AT 7:30p TO GRAB THESE TIX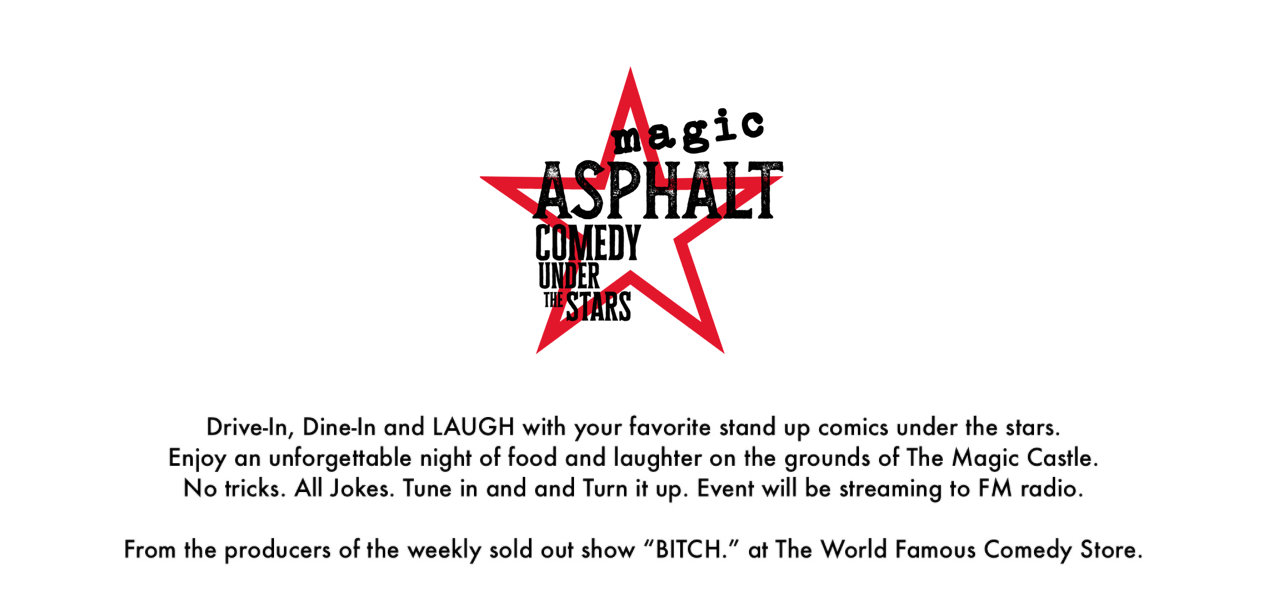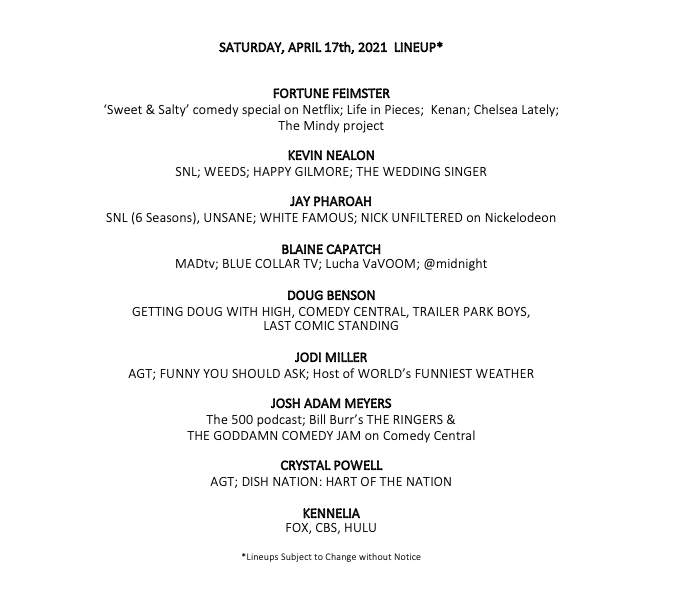 NO FOOD OR BEVERAGE MINIMUMS
Vehicles are staggered by County Health & Fire Department orders for Covid Compliance.

---
---
Line-ups subject to change



Read and review all terms and conditions.
Tickets are non-refundable.

NOTE FROM THE PRODUCERS:
WE HAVE PERSONALLY ATTENDED OTHER DRIVE-IN STYLE SHOWS THAT HAVE NOT BEEN AS STRICT. UNFORTUNATELY OUR CURRENT APPROVAL BY THE HEALTH DEPARTMENT IS DEPENDENT ON THESE STRICT TERMS. WHEN THEY ALLOW US TO LOOSEN UP WE WILL HAPPILY DO SO, BUT FOR NOW THE FOLLOWING PROTOCOLS MUST BE FOLLOWED.
WE DO NOT WANT TO RISK BEING SHUT DOWN.
THANK YOU FOR YOUR COOPERATION,
~Tammy Jo and Nikole aka Team Magic Asphalt


COVID COMPLIANCE
For the safety of guests, staff and talent and in accordance with CDC, state, and city guidelines the event will follow strict Covid protocols.
All drive-in and venue staff will be wearing PPE.
Anyone experiencing cough, shortness of breath, difficulty breathing, fever or chills, and whether the individual is currently under isolation or quarantine orders should not enter the grounds of the Magic Castle.
If you have been exposed to Covid-19 or if you are exhibiting Covid symptoms such as fever or coughing, please stay home!


Remember your mask, gloves, sanitizer!

· Guests must remain inside their vehicles and adhere to drive-in movie theater rules per the city/state "order".
· Sitting on top of or in front of a vehicle is prohibited.
· Tailgating is prohibited.
· Masks are mandatory & must be worn when engaging with event/venue staff or if outside of vehicle for any purpose.
· If outside of your vehicle you must adhere to the social distancing rule of staying 6ft apart from others.
· Restrooms are located inside the Magic Castle. ADA Compliant restrooms are also located inside the Magic Castle.
· Please respect any and all direction from event/venue staff.
· Guests who do not act in accordance with event guidelines will be escorted off the property and will not be refunded.

EVENT RULES
· Guests must be 21 years of age & older
· Tickets are nontransferable and non-refundable. Ticket name must match ID. No Exceptions.
· Tickets can be purchased online, there will be no box office onsite.
· Parking is limited. This is a pop-up "Drive-in" style show. Be prepared to park event as the staff guides you.
· No more than 5 persons per vehicle.
· Only attendees within vehicles are allowed to attend this event.
· No RVs, buses, campers, Hummers, motorcycles, scooters, mopeds. (No more than 5 people per vehicle)
· Large sized vehicles will be directed to park in a location that does not obstruct the view of other cars.
· Size of the vehicle will be determined by our staff.
· All vehicles will be parked in an appropriate area that will not obstruct the view of others..
· No sitting in the back of a pickup truck nor on top of your vehicle. All attendees must stay seated in the vehicle seats.
· No re-entry.
· No pets are allowed.
· No professional cameras, drones, or video or audio recording equipment.
· NO HONKING! At this venue honking is considered heckling.
· Attendees can flash their lights & use the hand clappers that we offer or they can laugh or jeer out their open car window.
· Food is available for purchase (presale only). Items will be delivered to you via window-car side.
· Venue will supervise all concessions & delivery.
· No weapons, guns, fireworks, knives, pepper spray, or laser pointers.
· Audio will be streamed via FM transmitter.
· Please make sure to arrive with a working FM radio in your vehicle or it will be difficult to listen to the show.
· If you prefer to watch the show with vehicle windows down then you are strongly encouraged to wear a mask.
· No drugs, or illegal substances will be permitted at the event or inside your vehicle.
· Smoking or vaping is prohibited outside of vehicles.
· If you want to partake in smoking or vaping you must be in your vehicle with sealed doors, windows & sunroofs.
· Convertibles - If your top is down then you are required to wear masks at all times unless your windows are up.
· Convertibles - If your windows are up and your top is down we request that all within the vehicle wear a mask.
· Convertibles - You are required to sit in the seat inside the vehicle. You may not sit on or around the vehicle.
Saturday, April 17, 2021
7:00pm - 9:45pm PDT
Tammy Jo Dearen Presents
About
We produce live stand up comedy.