BOOGIEWOMAN PRESENTS
:
LATINXPERIENCE

with

María Isa @mariaisasotarico



On Sunda

y, October 20th at The Townhouse & The Del Monte Speakeasy we have an insane line up/show for you! We welcome our sister María Isa from St. Paul, Minnesota!





María Isa Pérez-Hedges is a Boricua (BO-REE-KWA) singer, songwriter, actress, rapper, activist, youth worker and international recording artist born in Minnesota and raised in St. Paul's West Side barrio. She was raised by the influences of many different rhythms of Afro-Latino-Indigenous culture and channeled it into performing arts and activism at a very early age. Isa has been trained by the masters of the Afro-Boricua Diaspora from the island of Puerto Rico (Paracumbe, Tito Matos, Los Ayalas) New York City (LP21), Chicago's Humboldt Park (Evaristo "Tito" Rodriguez) and Master vocalists trained in concert choral (William White), jazz (Mila Llauger), Afro-Latin and Hip-hop lyricism.



Maria Isa has performed alongside and opened for artists such as The Roots, Bad Bunny, Common, Moby, Bomba Estereo, Sheila E, Kendrick Lamar, Wu-Tang Clan, Las Cafeteras, Atmosphere, Pedrito Martinez, Ana Tijoux, La India, LP21, Redobles de Cultura and many more. She is to the founder, producer and co-host for Latina Theory: Spanglish Podcast is known as NPR's one of the Top LatinX Podcasts in the Country to listen to.



María Isa's latest album "Sasa" is dedicated to her mother, woman of color in politics and the future leaders of the world. "Sasa" is produced entirely by Minneapolis hip-hop and r&b producer J.HARD and known to be María Isa's finest work to date.



ON AT 10:15 PM
Maria Isa - Main Vocals and Percussion.
Chico Chavez- Percussion (Cajon, Congas, Bongos)
Reynaldo Lara - Back UP Vocals
Tony "Trouble" Krawetz- Dj Tony Trouble
+
4 Dope All-Female, All Vinyl DJ's to accompany her
Featuring:
ON AT 8 PM
DJ LEXA @loopylexa
ON AT 9 PM
MUEZETTE @muezette_
ON AT 11:15 PM
DJ LADY C @ladycslamdunx
ON AT 12 AM
VIDI VICTORIA @vidi_victoria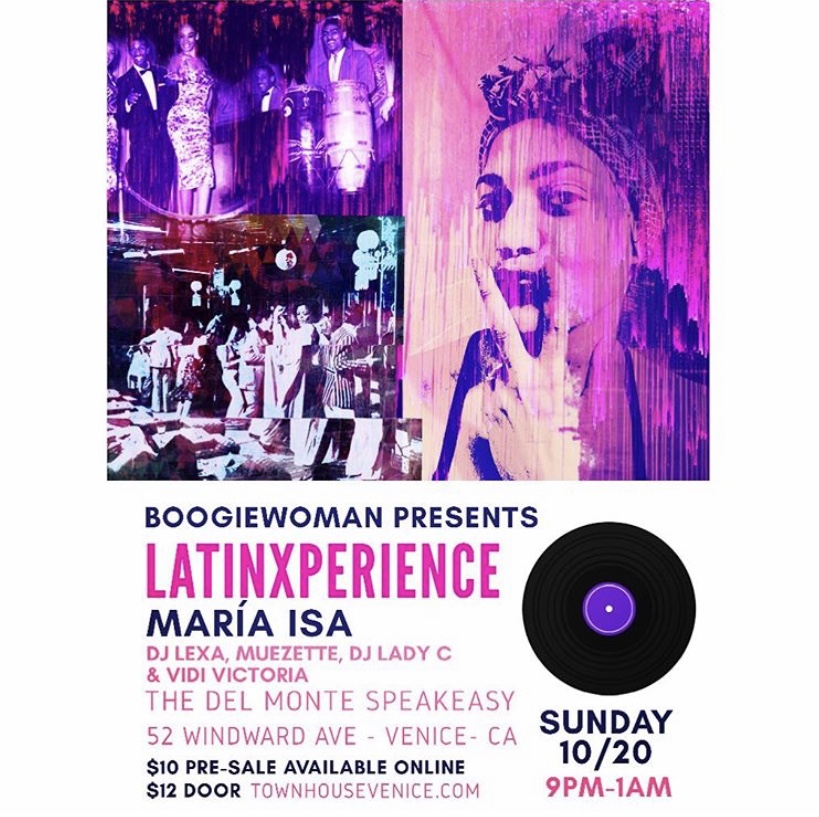 *Please note that we have absolutely no tolerance for any form of discrimination at our parties, and anybody who exhibits any kind of racism, xenophobia, transphobia or homophobia will be automatically kicked out. We are dedicated to creating and ensuring safe spaces for our events.
Sunday, October 20, 2019
8:00pm - 1:00am PDT
Boogiewoman
About
Boogiewoman is a female curated art + music showcase featuring people of all flavors. We donate our proceeds from our showcases to different organizations working to aid women worldwide. Our theme for our events is to celebrate overall equality with an emphasis on femininity and how that can be translated through all mediums of art. Our goal is to spread a positive message through self & collective expression. We aim to always support and include local like-minded artists.