Join
Bash Events
,
Tecate
and
Dos Equis
on Sunday,
May 5th from 11am-4pm
as we crawl through 10 of the best bars Wrigleyville has to offer! Grab your sombrero, call your amigos, dress to fiesta, and get ready to celebrate Cinco De Mayo the right way.
We'll
Grab Cinco By The Cervezas
, by enjoying an entire spring afternoon of bar hopping, drinking beer, eating tacos, and hunting down our Cinco Adventure. We will be crawling bar to bar, thumb wrestle a luchador, play Mexican plinko, decorating our tecate cans, shaking maracas, take swipes at our pinatas, and swing by our photo booth for epic Instagram-able post! We'll be supplying t-shirts, sombreros, tacos, luchador masks and tons of other Cinco style giveaways for our participants!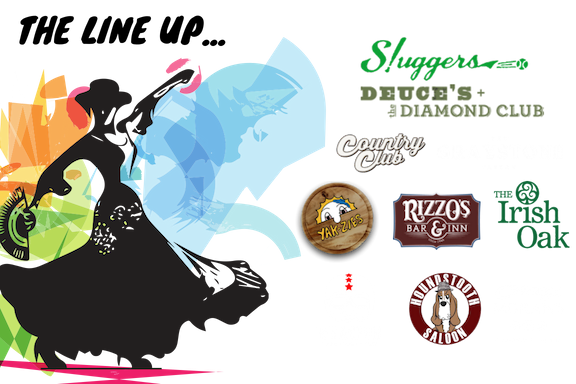 YOUR AFTERNOON OF CRAWLING INCLUDES...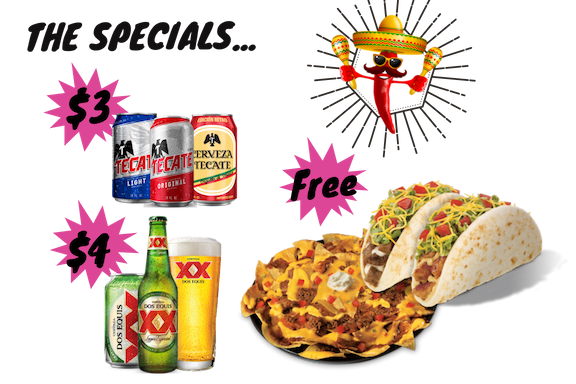 DRINK SPECIALS:
$3 Tecate
and
$4 Dos Equis
from 11am-4pm.
FREE FOOD:
Complimentary Tacos, Chips and Salsa
at the following locations: Deuces and the Diamond Club and Slugger's Bar.
Voucher needed to redeem. 1 complimentary serving per person. Redeem at one of the 2 approved locations listed above.

CINCO AVENTURAS - PLAY TO WIN:
Don't leave Cinco without a story and play to win our Grand Prize Drawing!!! That's right, not only do we want you to enjoy refreshing drinks & delicious tacos... we want to make your Cinco an adventure to remember. Upon check-in, you will receive an Official Cinco Map and punch card with a list of activities. We will have you crawl bar to bar, thumb wrestle a luchador, play Mexican plinko, decorate your tecate can, grab a sombrero, build your own nachos, take swipes at our pinatas, swing by our photo booth and much more. Playing all activities will get you one punch closer to be entered in our Grab Cinco Drawing. You can play to win or crawl at your leisure at your favorite watering hole.
*You MUST have an EVENT WRISTBAND to take advantage of Cinco Aventuras, Beer Specials, Free Food and Giveaways
.
GIVEAWAYS:
$5 Uber Voucher
, T-shirts, sombreros, Mexican wrestler masks, beer coozies, and much more Cinco de Mayo paraphernalia! *Limited quantities available. Sombreros for the first 500 guest checked in! Get them, while supplies last.
CHECK-IN LOCATIONS:
Sunday, May 5th from 10:00am - 2:30pm to pick up your credentials at
HVAC Pub in Wrigleyville
. Once checked in you may begin enjoying the drink specials.
PURCHASE TICKETS DAY OF EVENT:
Limited amount of tickets will be available the day of the event. They can be purchased at our check-in locations:
HVAC PUB in Wrigleyville
from 10:00am - 2:30pm.

WRISTBANDS:
MUST BE WORN AT ALL TIMES. Each participant must have a wristband to participate in the event, partake in scavenger hunt, take advantage of drink specials, receive voucher for free food and giveaways.
PURCHASE & ATTENDANCE POLICIES:
Must be 21+ to attend and possess a valid state or federal ID. Tickets are NON-REFUNDABLE. All sales are FINAL. This is a rain or shine event. Giveaways are on a first come first serve basis. Get them while supplies last.
Bash Events believes that everyone is entitled to have an enjoyable time. But in doing so we ask, first, that every participant has the responsibility to drink responsibly; and second, that the establishments will not serve any patron who appears to be visibly intoxicated. Furthermore, participating venues reserve the right to refuse entry to participants that are deemed intoxicated (or otherwise unfit) upon arrival.
Sunday, May 5, 2019
11:00am - 4:00pm CDT
HVAC Pub

3530 N. Clark St, Chicago, IL 60657

Yakzies

3710 N. Clark St, Chicago, IL 60613

Rizzo's Bar and Grill

3658 N. Clark St, Chicago, IL 60614

Slugger's

3540 N. Clark St, Chicago, IL 60657

Country Club

3462 N. Clark St, Chicago, IL 60657

Houndstooth Saloon

3369 N. Clark St, Chicago, IL 60657

Casey Moran's

3660 N. Clark St, Chicago, IL 60613

The Gray Stone Tavern

3441 N. Clark St, Chicago, IL 60657

The Irish Oak

3511 N. Clark St, Chicago, IL 60657

Deuces and the Diamond Club

3505 N. Clark St, Chicago, IL 60657
Bash Events
About
Based in Chicago, Bash Events has been designing and hosting custom events for over 13 years. We've produced unique themes that range from corporate and holiday parties to farm-to-table dinners. Whether it is transforming an empty space or reworking a venue into something new, we will accommodate with whatever we are given to work with. If you already have an idea or a host, we can do all of the heavy lifting to make your ideas come to reality. Providing such a variety of unique client productions has also afforded us a diverse range of marketing and branding experience. Let Bash Events become your brand ambassador throughout the production and increase brand awareness through interactive events, target specific promo teams in the field, social media strategies and email communications. Leveraging traditional art and technology, we create multimedia experiences that keep your audience engaged and talking for days. By hiring Bash Events to create a complete package ensures that your message is consistent and reinforced to generate the highest level of visibility.