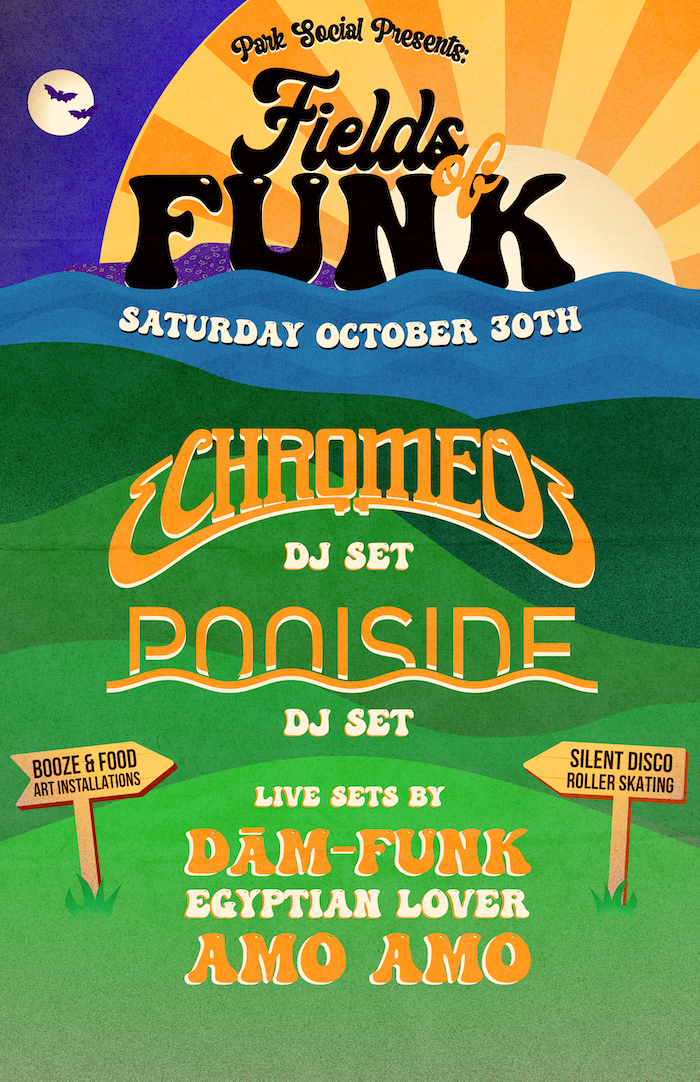 ---
Park Social presents
Fields of Funk
at Elings Park
Saturday, Oct 30
3pm-10pm
All Ages
We are so excited to bring together the community on Halloween in a way that's never been done before, in the most beautiful valley Santa Barbara has to offer! Park Social presents: Fields of Funk, a utopian day festival with live performances, food trucks, clothing vendors, art installations, full bar, silent disco, and a roller skate rink! Get ready for groundbreaking DJ sets by Chromeo and Poolside and cutting-edge live sets by DāM-FunK, Egyptian Lover, and Amo Amo. Bring some lawn chairs and blankets up to Elings Park and enjoy the day grooving on the field surrounded by the ocean breeze!
All walks of life are welcome.
In partnership with the Santa Barbara Arts Foundation.
Costumes are encouraged!
---
With Musical Performances From: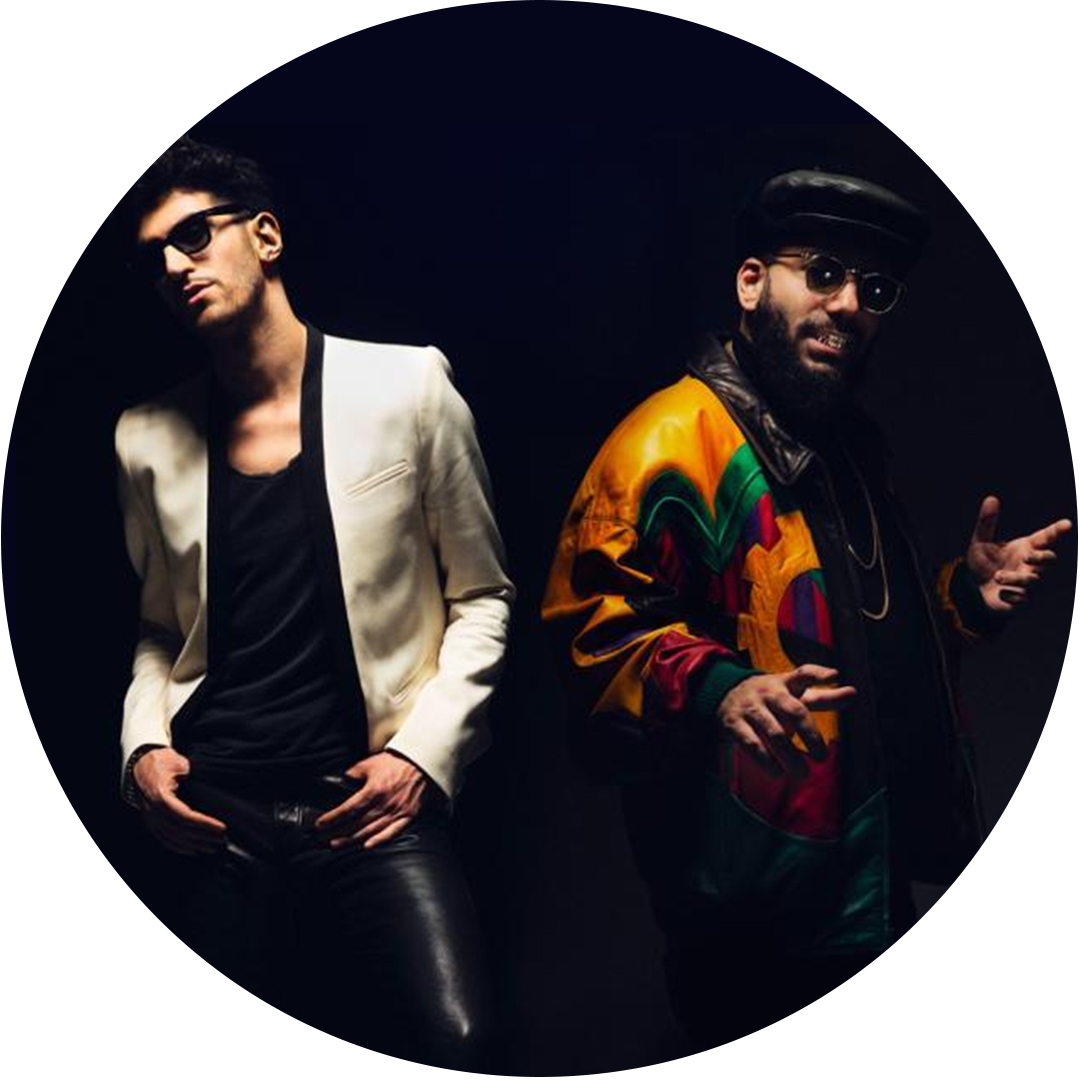 Chromeo
World leaders, powerful CEOs, and other fat cats could learn a lesson or two from electrofunk duo Chromeo, namely: know thyself, know thy vibe, and stay thy course. The rest of the population will catch up. Indeed, Chromeo is really good at being, well, Chromeo. The mission, the package, the vision — it's been a straight shot of pure intentionality from the jump. Funk a game plan, Montreal natives Dave 1 and P-Thugg had a ten-year battle strategy: from cult 80s fetishists on 2004's She's In Control to indie blog darlings on 2007's Fancy Footwork, to international touring sensations on 2010's Business Casual, to bona fide pop stars on 2014's White Women.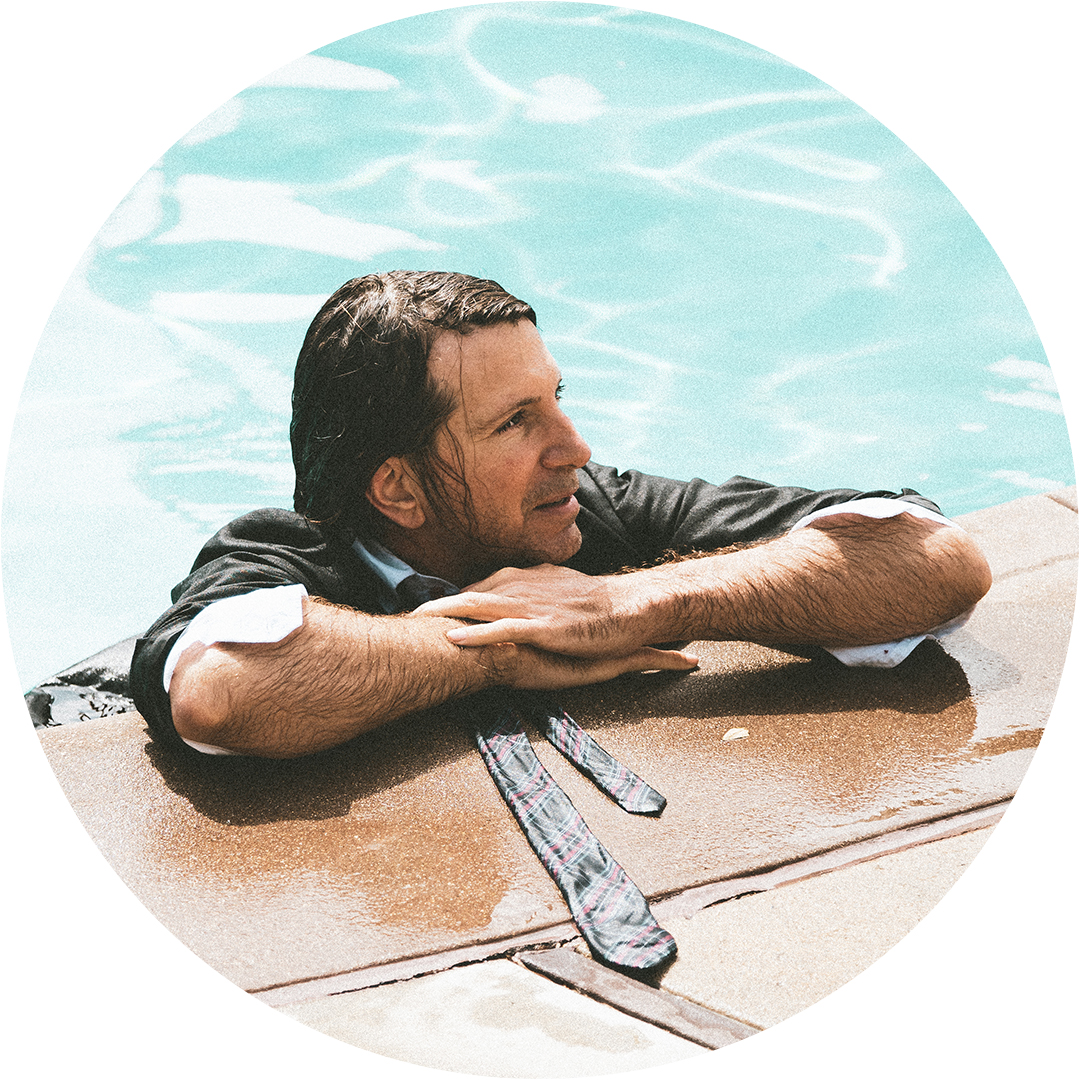 Poolside
Poolside is the recording project of producer, songwriter and multi-instrumentalist Jeffrey Paradise. Poolside began in a converted Los Angeles backyard pool house in early 2011 when Paradise set out on a low-stakes journey to produce appropriately chill music for summer soirees, a light but danceable kind of music with sunny vibes and liquid rhythm that he dubbed "Daytime Disco". Since then, Poolside has released four acclaimed albums – Pacific Standard Time (2012), Heat (2017), Low Season (2020) and High Season (2021) – remixed countless high-profile acts such as Billy Idol, Jack Johnson & Milky Chance, Miami Horror, Rhye, L'impératrice and more, and toured the world over for nearly a decade as a formidable five-piece live band, performing at major stages across the globe including Coachella, Outside Lands, Primavera and Corona Capital and supporting marquee artists like LCD Soundsystem, Kacey Musgraves and Tycho.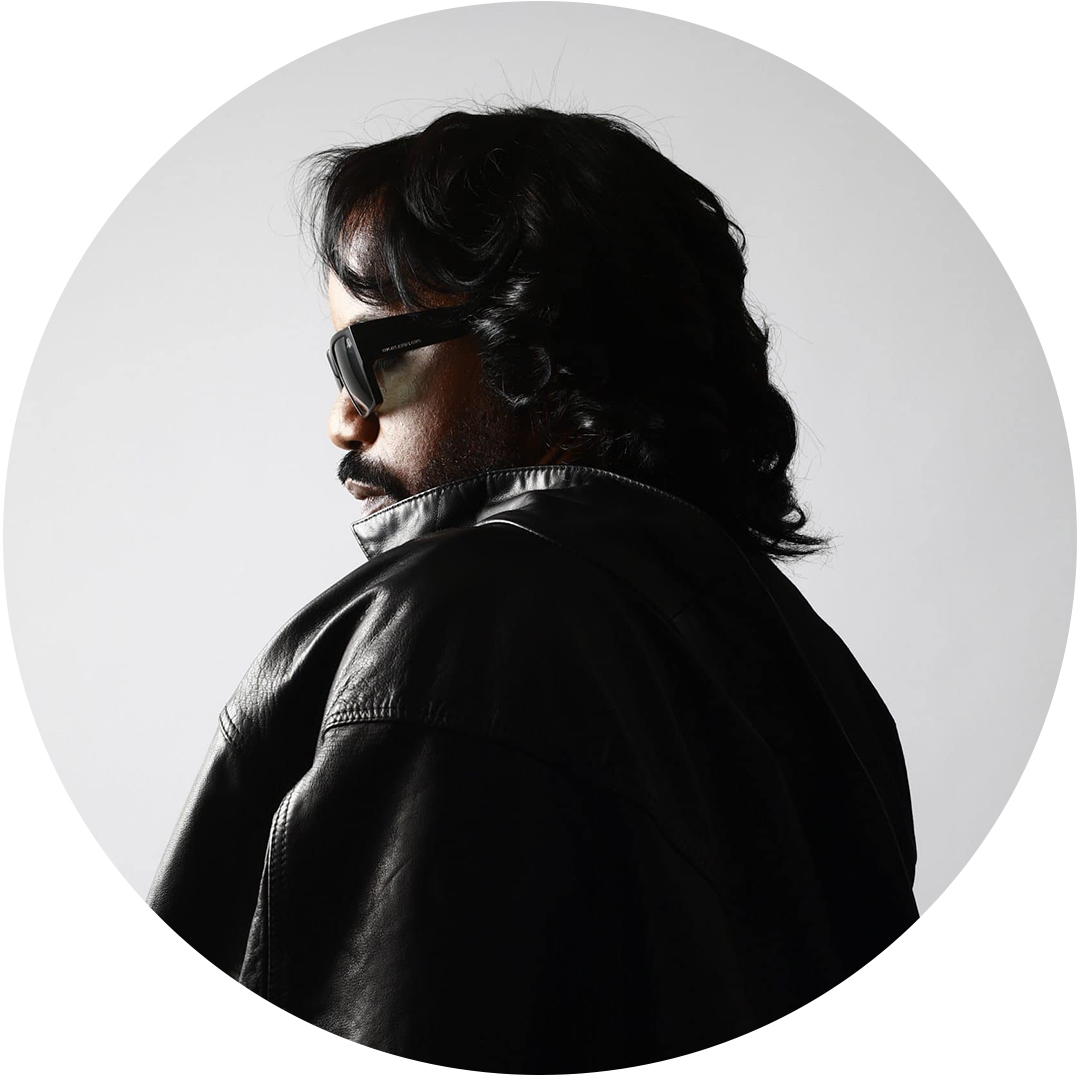 Dām-FunK
Damon "DāM-FunK" Riddick is the epitome of funk. Ever since debuting with Stones Throw in 2008, DāM-FunK has become one of the genres most passionate proselytizers, out to save it from devilish depictions of cartoonish caricature. To DāM, funk is a way of living, "…a feeling of struggle and staying cool through it all." DāM-FunK continues to be a driving force within the ever-evolving funk genre. Developing his eclectic style of futuristic sounds throughout the years, in 2006, DāM and a few friends launched the popular Funkmosphere dance party in L.A., bringing a resurgence of carefree boogie back into the city. Moving his indelible, pulsating sound to a wider audience online, his current endeavor includes his own monthly DJ showcase on Red Bull Radio titled Glydezone that's a 'mythical space for modern funk, boogie, aor, soul, house and beyond'. His musical stylings can also be heard on recent collaborations with Christine and The Queens and remixes for Cut Copy, as well as The Avalanches, making this man more in demand than ever. "…he's living proof that if you can't find the music you want to hear, then you should make it yourself" – Resident Advisor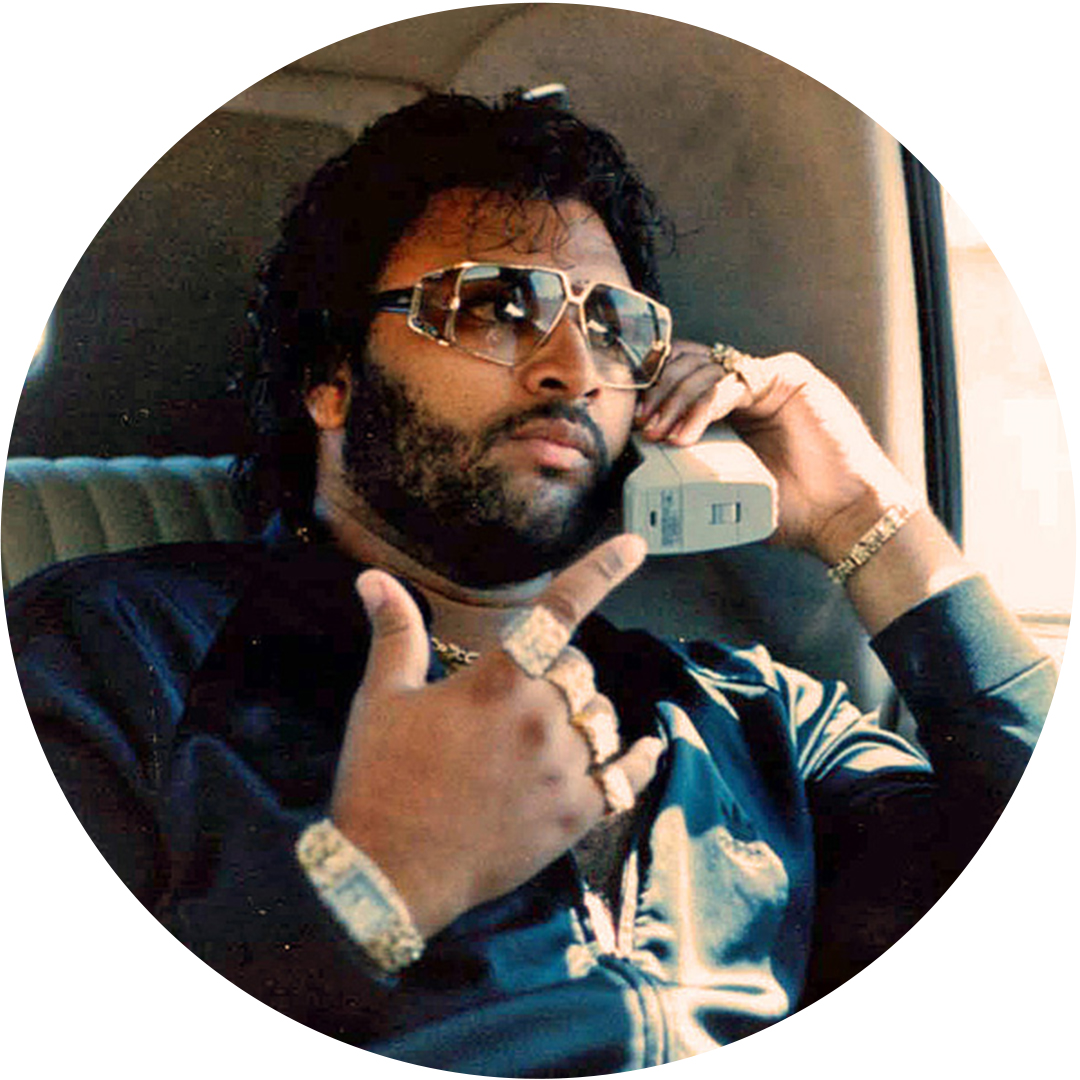 Egyptian Lover
One of the most innovative producers of the old-school/electro era, Egyptian Lover's Greg Broussard recorded a parade of singles during the mid-'80s that proved influential for decades. Influenced himself by Kraftwerk/hip-hop soundclashes like Afrika Bambaataa's "Planet Rock" and Man Parrish's "Hip-Hop Be Bop (Don't Stop)," as well as the extroverted loverman soul of Prince and Zapp, Broussard began recording from his Los Angeles base in 1983.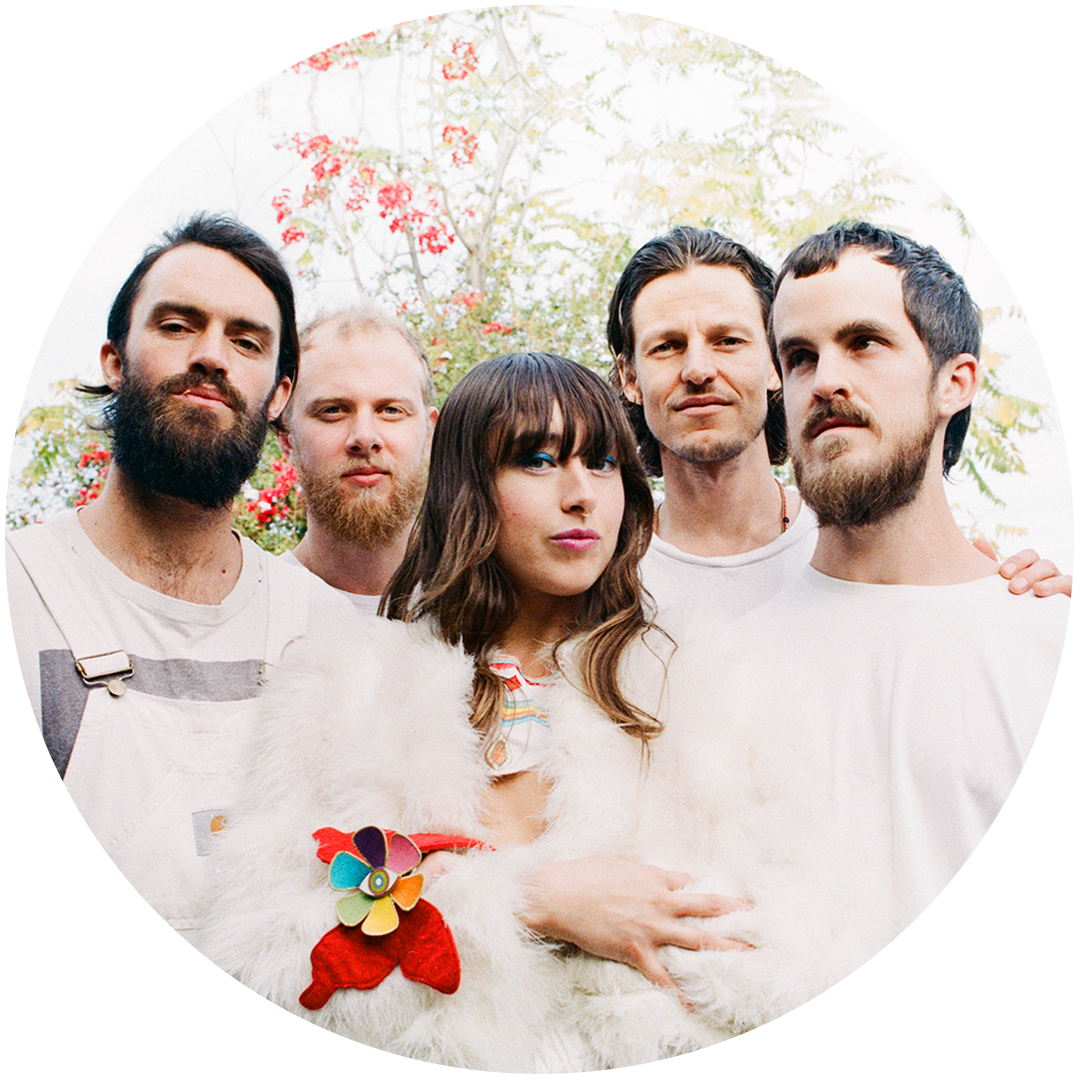 Amo Amo's instantly gratifying, euphoric compositions seem laser-focused on bringing a mess of earthlings into a space and getting them to move together like a single, pulsating organism. 
 Amo Amo formed in June 2017 when a group of friends -- Omar Velasco, Love Femme, Justin Flint, Shane Mckillop and Alex Siegel -- got together for an impromptu session in Los Angeles with Jim James (My Morning Jacket). There had been a premonition that the five of them shared a sort of psychic bond that would lead to a revelation in sound. Amo Amo released their debut album, produced by Jim James, in 2019 and supported him on his tour, opening for My Morning Jacket at Red Rocks in August 2019. 
 In the past 3 years, the world has fallen under the spell of Amo Amo's magical sound. Legendary mastering engineer Bob Ludwig says of their first record, "I really love these songs, they are stand outs of the past year for me... Amo Amo has made a very special album." Jenny Eliscu (Rolling Stone, Sirius XM) says "Rarely do I come across a band with as strong a sense of self-identity as Amo Amo... their live show is ecstatic."
---
Festival Guidelines:
DON'T dress like authentic-looking law enforcement, fire department, or security personnel. While it might seem like a fun idea to mimic the outfits of our Sata Barbara PD, believe us, you won't get far. Allow law enforcement to do their jobs, so everybody has the best and safest experience possible!

DON'T apply full-face makeup that makes you unrecognizable. We've got to be able to recognize that face on your ID to let you in—otherwise, how do we know it's really you?

DON'T bring weapons or weapon accessories.

DON'T include violent props. This includes crops, whips, ropes, chains, metal spikes or tethers.

DON'T wear giant blow-up suits or props.

DON'T incorporate offensive slogans or themes.

DON'T wear Native American headdresses. We say it time and time again: It's cultural appropriation, so don't do it.

DO get imaginative. As long as you're dressing within the guidelines, you're good to go!

DO make it comfortable. When picking your costume, keep in mind mobility and stamina—as well as on/off ease in the bathroom. Trust us.

DO get spooky. Ghosts, ghouls, skeletons—you name it!

DO make sure you have a sturdy costume. We recommend testing out wearing your costume while dancing before heading to the event.

DO bring a jacket. Halloween tends to get a tad chilly at night, so we recommend incorporating a jacket (or cloak, cape, etc.) into your costume.

DO have fun with it!
---
Official Sponsor: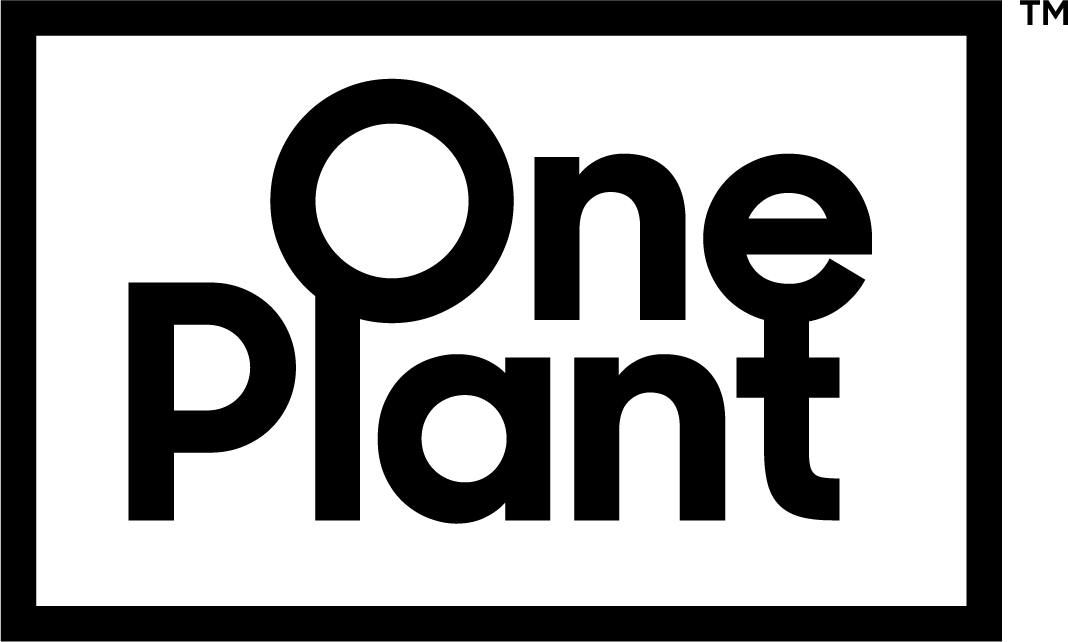 In Partnership with:

Saturday, October 30, 2021
3:00pm - 10:00pm PDT