The El Dorado Hills Chamber is pleased to announce – the 17th Annual El Dorado Hills Art, Beer & Wine Festival Saturday and Sunday, May 9th & 10th, 2020 at the El Dorado Hills Town Center.
As with every year the event will feature the 75+ best artists from both near and far, displaying their fine art along the thoroughfare on Town Center Boulevard. In addition to the wonderful art, there is great food and live music plus some of the area's most prestigious wineries and award-winning craft breweries pouring tastes each day. The event runs 11am - 5pm daily.
THE VENUE
The El Dorado Hills Town Center is the downtown district of El Dorado Hills. The beautiful venue houses local and national retailers, a California Welcome Center, cafes, restaurants, a Regal Cinemas movie theater, a gourmet market, fitness club, day spa, a luxury car dealership, and a Holiday Inn Express & Suites. Town Center is the hub for locals and travelers to shop, dine, work and play. For those looking for an evening in the park, Town Center also offers a beautiful outdoor amphitheater with picnic tables. Click here for directions.
SPONSORSHIP INFORMATION
With nearly 75 artisans, dozens of El Dorado County wineries & breweries – this event has become one of the premier events in El Dorado County. During the two-day festival, your business will have access to more than 16,000 patrons from the counties of El Dorado, Sacramento, Placer, Sutter, Yuba, Yolo, Amador and the Bay Area.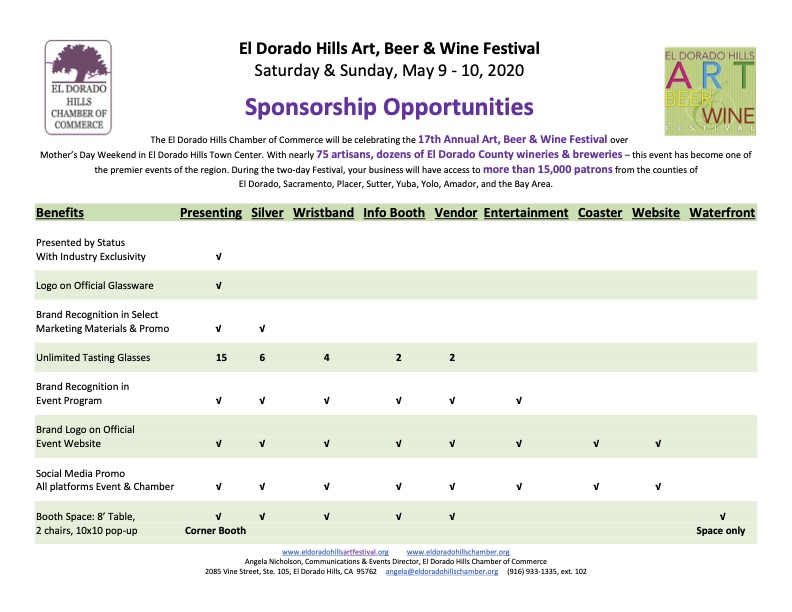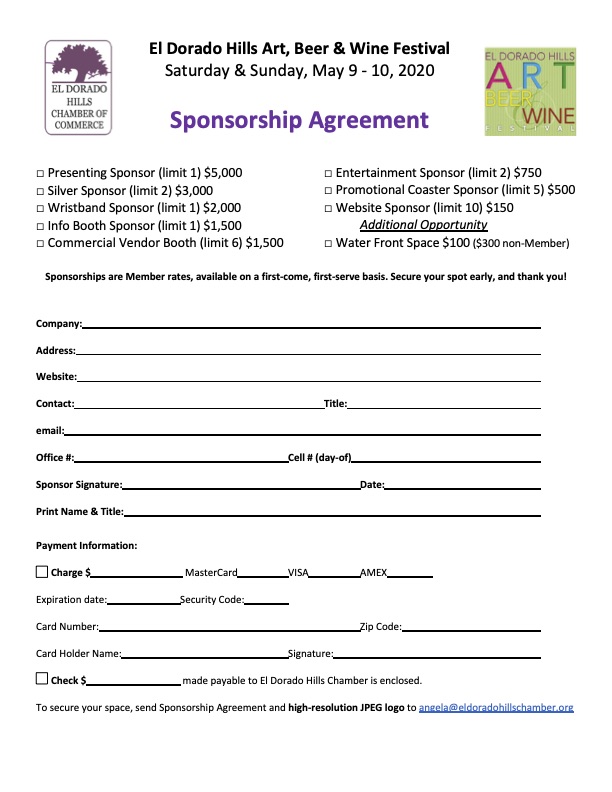 El Dorado Hills Chamber of Commerce
About
El Dorado Hills Art, Beer & Wine Festival is free entry – but tasting the wonderful beer and wine requires that you are 21 years or older and you must have an official tasting kit. Price is for either Beer or Wine tasting – or both! And you can choose either Saturday, May 9th or Sunday, May 10th – but the price is per person per day (if you choose to come both days you will have a pair of matching glasses!) Terms & Conditions: This website is for general information and to purchase a Tasting Kit for the Art, Beer & Wine Festival event on May 9 & 10, 2020. Must use 2020 event glass for tasting; prior year glasses not accepted. No outside food or drink. All prices include tax. Visa, Mastercard and American Express accepted online and cash or local check only at the event. Event is rain or shine. Refund policy: All sales are final; no refunds or exchanges. Must be 21 and show proof of ID at the Tasting Kit Sales Booth on the event day before your eTicket can be redeemed for your Tasting Kit. We card everyone. Privacy Policy: Information you provide El Dorado Hills Art, Beer & Wine Festival or the El Dorado Hills Chamber of Commerce will never be provided to a third party. You may opt out of email/mail marketing lists at any time. Ticketing Contact Info: El Dorado Hills Chamber of Commerce 2085 Vine Street El Dorado Hills, CA 95762 Sherri Pellegrini Phone: 916 933-1335 Ext. #103 Email: sherri@eldoradohillschamber.org Kit includes official tasting glass and over 21 wristband. Tasting is unlimited between the pouring hours of Noon – 4:30pm each day. Event runs from 11am-5pm. Be sure to stroll and check out all the fantastic art – great stuff for Mom for Mother's Day gift or for yourself!