You are cordially invited to join Bash Events and Joe's on Weed as we celebrate Halloween with our 24th Annual Dance With The Dead!!! It's a ghoulishly good time and one not to be missed!
DANCE WITH THE DEAD as it is affectionately known around the ole boneyard, is a ghoulishly good time! It's The Party WHERE the PAINT PEELS…the WALLS BLEED…and the DEAD RISE!
Doors to The Zombie Fallout Shelter Open Saturday, October 26th at 8:30pm and the Event is from 9pm-4am
This annual fright fest will treat guests to the twists and turns that have become signatures of this spooktacular event. It's a vibrant visual collusion of fun and fright; the likes of which no living soul has ever seen. Our decorations are monumental in size and created specifically for this annual zombie style apocalypse. The theme is always eerily innovative and the crowd, well, they are just to die for!
Dance with the Dead has grown to be one of the premier Halloween Parties in Chicagoland entertaining 10's of thousands throughout the years.
Ordinarily our vintage pipe organ belts out frightful favorites…but this year we are proud to present the skeletal remains of SIXTEEN CANDLES…dug up straight from their 80's graveyard. They will be rocking your tortured soul retro style to the tunes of devilish delight.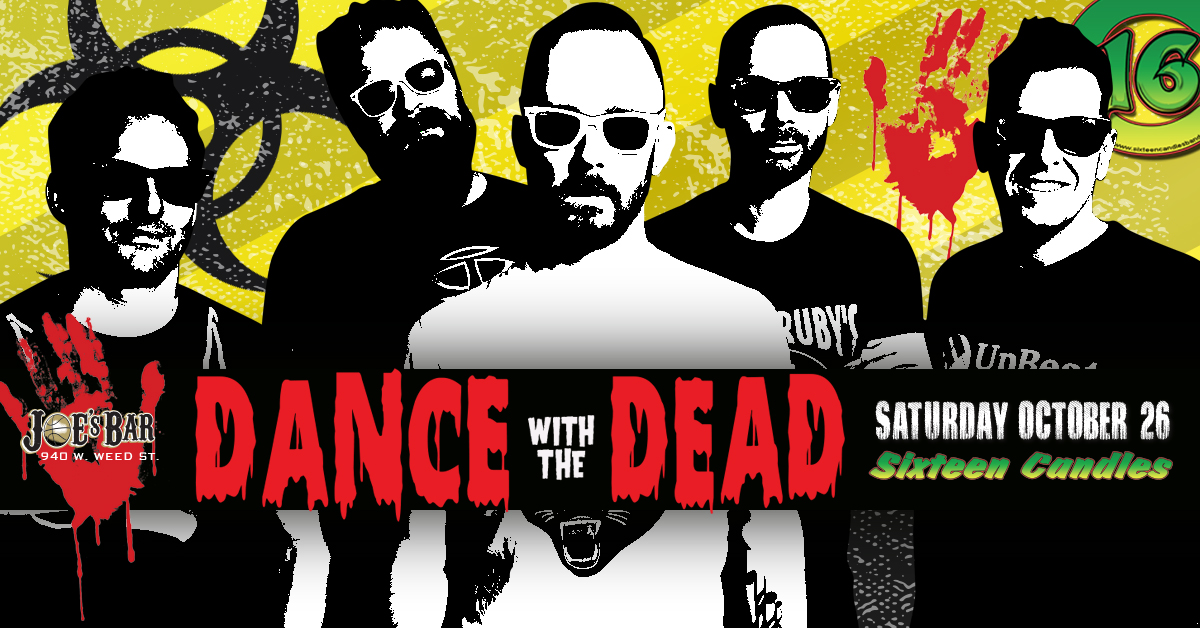 This Zombilicious Event includes:
Sixteen Candles Live (or Dead) in Concert
Miller Lite, Coors Light and Titos Vodka Drink Features
DJ to spin the rest of your frightful favorites
$1000 Grand Prize for Best Costume
Décor to Just Die For
Party Time Frame is 9pm-4am
If you are purchasing a Drink Package, then you also receive Premium Cocktails, Variety of Beer & Wine 9pm-1am
Ticket Options:

$40 4-Hour Premium Drink Package
- OR -
$10 Admission with Cash bar
Early Bird Pricing
Costumes Strongly Recommended
Party Time Frame is 9pm-4am / Doors Open 8:30pm
Purchase and Attendance Policies
21+ Event. Pricing Subject to Increase. Tickets are non-refundable and all sales final.
Bash Events Reminds its friends to drink responsibly.
Bash Events believes that everyone is entitled to have an enjoyable time. But in doing so we ask, first, that every participant has the responsibility to drink responsibly; and second, that the establishments will not serve any patron who appears to be visibly intoxicated. Furthermore, participating venues reserve the right to refuse entry to participants that are deemed intoxicated (or otherwise unfit) upon arrival.

Sponsors:
MILLER LITE COORS LIGHT TITO'S VODKA BASH EVENTS 16 CANDLES JOE'S ON WEED
Saturday, October 26, 2019
9:00pm - 4:00am CDT
Bash Events
About
Based in Chicago, Bash Events has been designing and hosting custom events for over 13 years. We've produced unique themes that range from corporate and holiday parties to farm-to-table dinners. Whether it is transforming an empty space or reworking a venue into something new, we will accommodate with whatever we are given to work with. If you already have an idea or a host, we can do all of the heavy lifting to make your ideas come to reality. Providing such a variety of unique client productions has also afforded us a diverse range of marketing and branding experience. Let Bash Events become your brand ambassador throughout the production and increase brand awareness through interactive events, target specific promo teams in the field, social media strategies and email communications. Leveraging traditional art and technology, we create multimedia experiences that keep your audience engaged and talking for days. By hiring Bash Events to create a complete package ensures that your message is consistent and reinforced to generate the highest level of visibility.