DV8 Distillery, Finnalli Ent & The ZooKeepers Present: Boulder's Premier Music Festival! Located on Old Pearl Street, at DV8 DISTILLERY in Boulder, Colorado, 2.5 miles East from Downtown Boulder.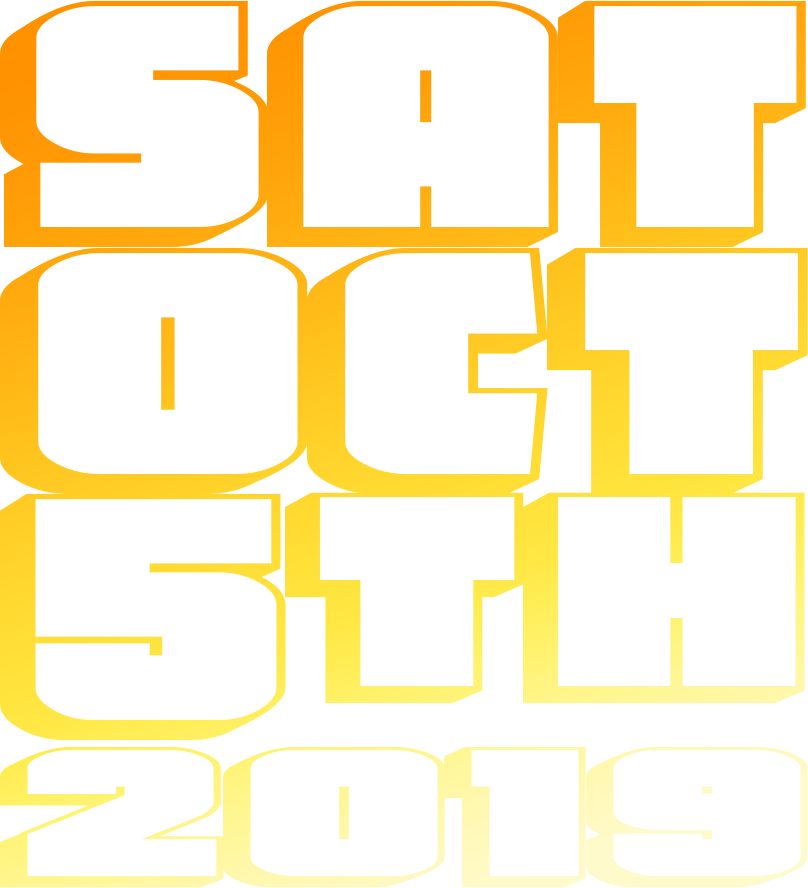 Live Music ✦ Cocktails by DV8 Distillery ✦ Craft Vendors ✦ Food Trucks ✦ Draft Beer ✦
SoundDown Party Silent Disco
✦
Surreal Laser
Show ✦ Visuals by
Onyro
✦ Graffiti Wall ✦ Magicians ✦ Body Painting ✦ Henna ✦ Raffles & Prizes ✦ A True Local Boulder Treat ✦
FEATURING PERFORMANCES BY: Gasoline Lollipops ✦ DeadPhish Orchestra ✦ Chris Karns (Pretty Lights) ✦ DJ Abilities ✦ Banshee Tree ✦ Valerie Molano ✦ DJ Panic ✦ BullHead*ded ✦ Righteous Revolution ✦ & novvas ✦
LIVE ARTWORK BY:
Laura McGowen
✦
Dustin Spencer
✦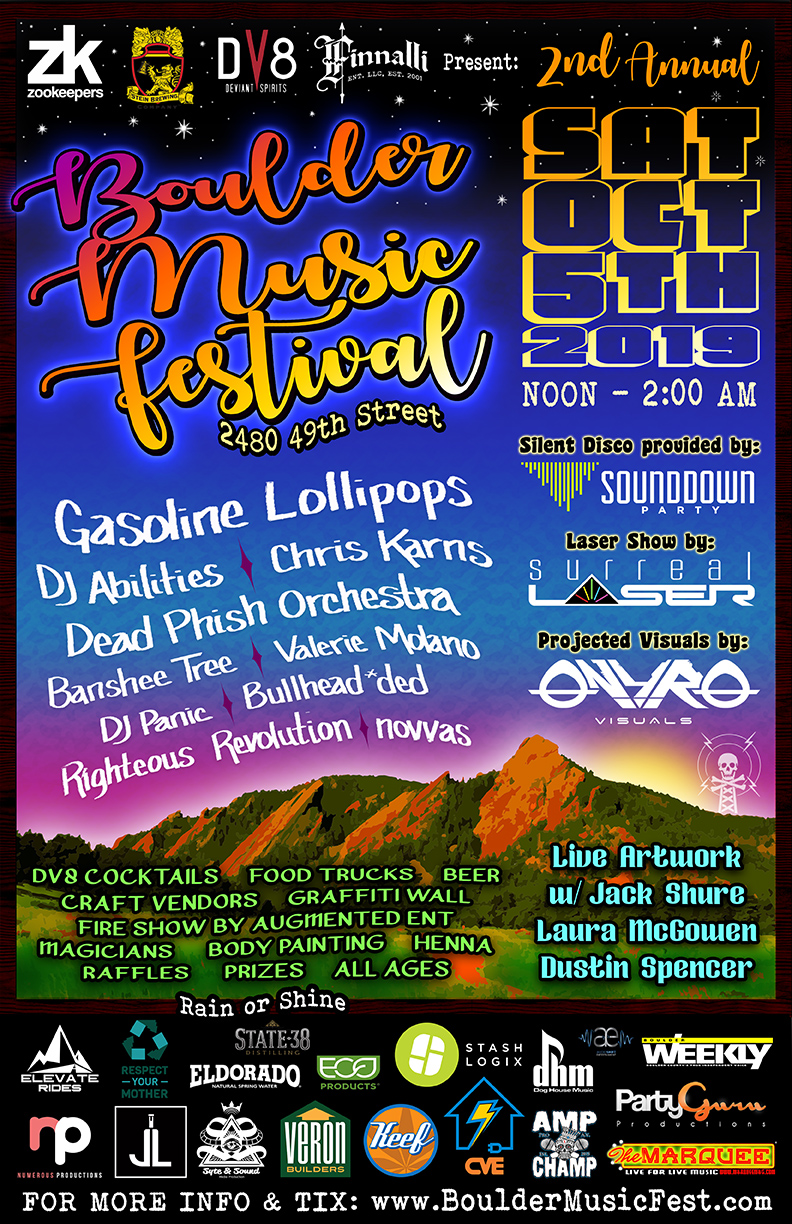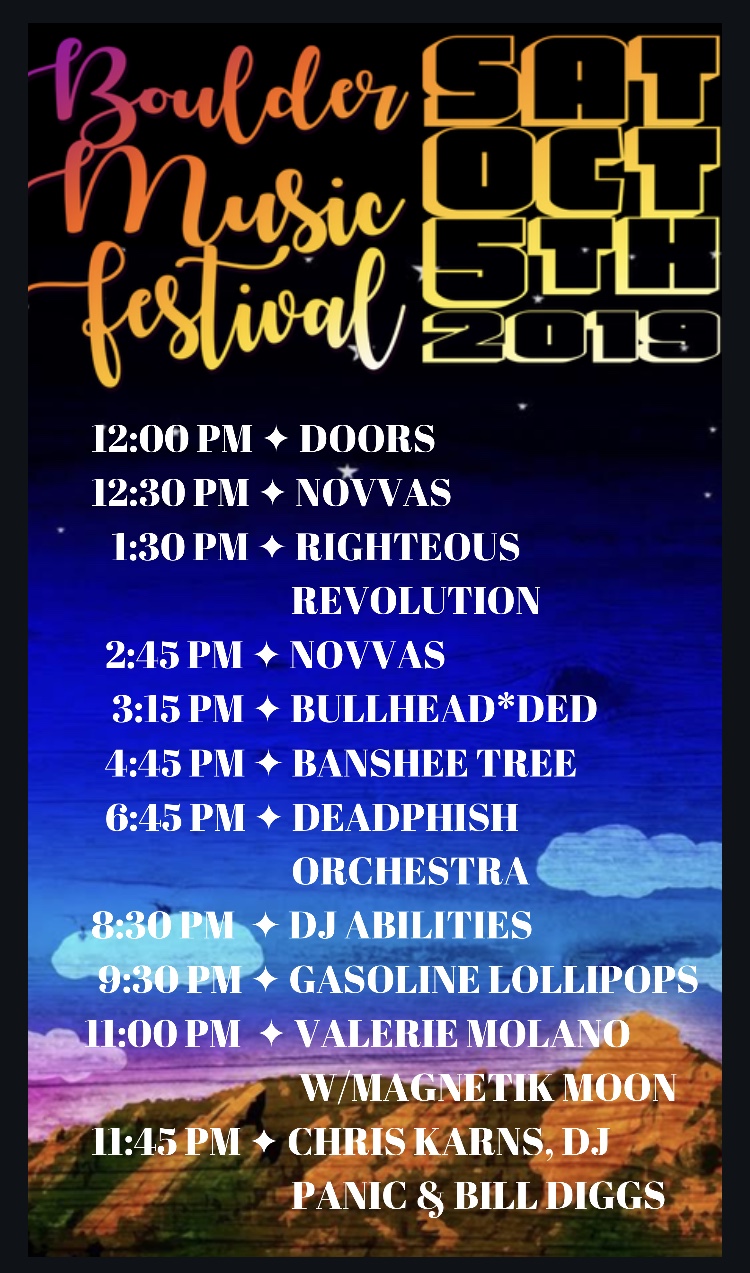 FOOD TRUCKS:
✦ Delicious family recipes from Colorado Fried Chicken Company
✦ Hearty whole food gourmet VEGAN dishes by The Vegetable Express
✦ Lip smackin' slow-smoked BBQ from Rollin' Bones
Boulder Music Festival
is an annual celebration of local small businesses that have emerged in the now flourishing and distinct neighborhood of East Boulder and throughout Colorado which is renowned for its ingenuity, family businesses and dedication to its locally sourced followers. Curated by
DV8 Distillery
and
Finnalli Ent. LLC
to highlight and support some of the best businesses and vendors that Boulder culture has to offer while showcasing some of the Nation's and Colorado's best artists.
DATE & HOURS OF OPERATION: OCTOBER 5th, 2019 from 12:00 PM - 2:00 AM
ALL AGES - RAIN OR SHINE - KIDS UNDER 12 ARE FREE - There is a pole tent in front of the food trucks with tables and chairs, first come first serve. Also, DV8 Distillery will be operating their bar on the festival site (indoor).
$20.00 pre-sale & $25.00 day of show
PURCHASE TICKETS ONLINE at
www.bouldermusicfest.com
HOT TICKET LINK: http://bouldermusicfestival.nightout.com
FB EVENT PAGE:
https://www.facebook.com/events/365331900802388/?ti=icl
Limited tickets are available! The first 150 General Admission tickets sold receive (2) FREE pair Silent Disco Headphones for the SoundDown Silent Disco 11:30 PM - 1:30 AM.
LOCATION: Boulder Music Festival is held in the parking lot in front of DV8 Distillery at
2480 49th Street, Unit E, Boulder, CO, 80301
. The cross streets are 49th & Pearl Street, and it's exactly 2.5 miles East of Downtown Boulder.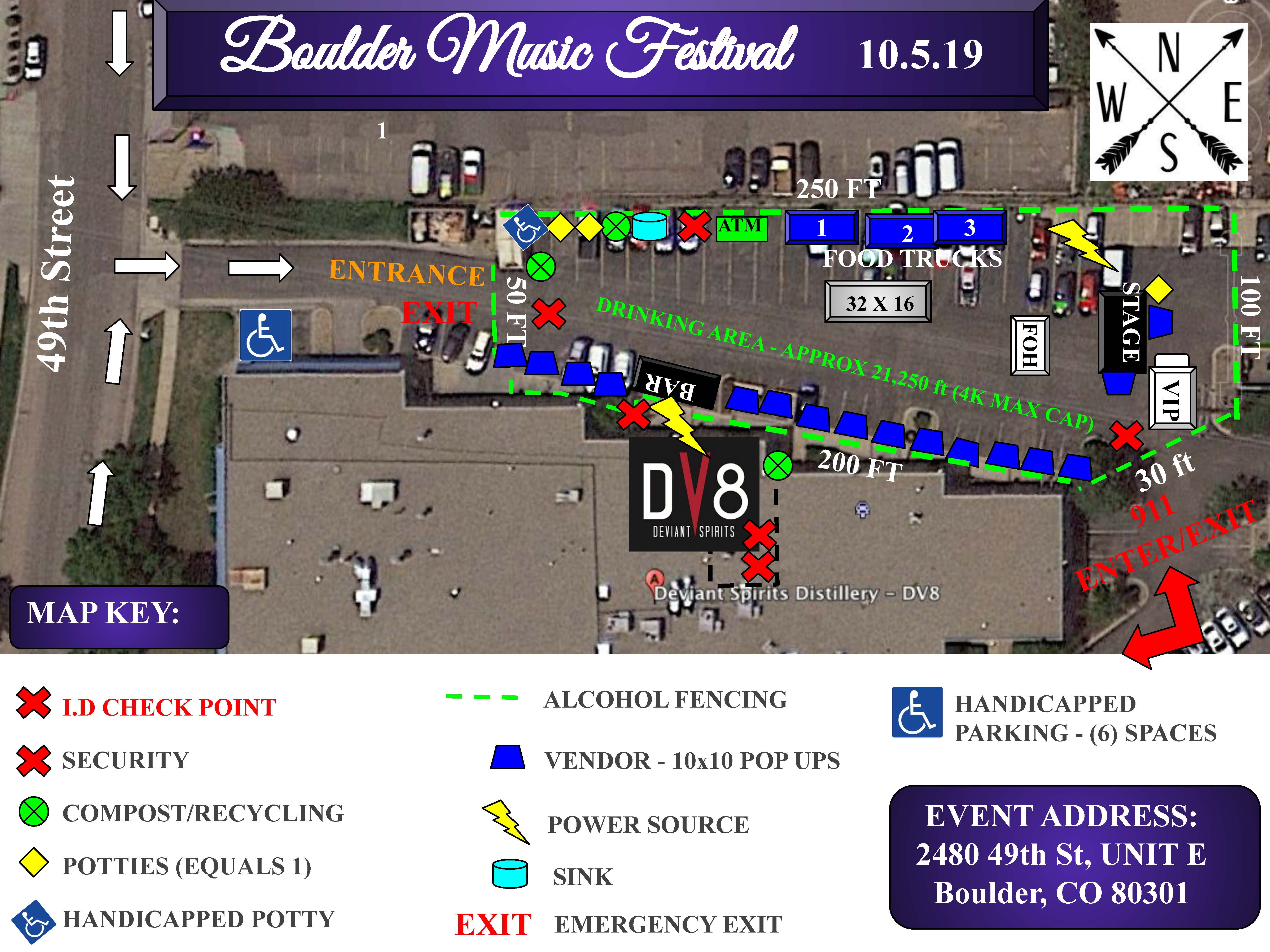 PARKING: There is a 500 capacity FREE PUBLIC PARKING lot on the Southside of 49th St (TAKE A RIGHT ON 49th FROM PEARL IF GOING EAST). The parking lot is 0.1 miles South from the Festival site on 49th (crossing over Pearl St). Handicapped parking is available at our festival entrance!
TRANSPORTATION: BMF is 2.5 miles EAST of Downtown Boulder, we recommend carpooling, biking, skating, local transportation services, UBER, LYFT or TAXI otherwise.
PRESS: Frontpage (cover story) from The Daily Camera, September 2018 written by PAUL ALBANI-BURGIO:
https://www.dailycamera.com/2018/08/31/locale-summer-music-fest-lines-up-boulder-talent-with-weekend-party/
BMF SOCIAL LINKS:
✦ Main website: www.bouldermusicfest.com
✦ Facebook: www.facebook.com/bouldermusicfestival
✦ Instagram: www.instagram.com/bouldermusicfestival
✦ Twitter: www.twitter.com/bocomusicfest
CONTACT:
(415) 637-3893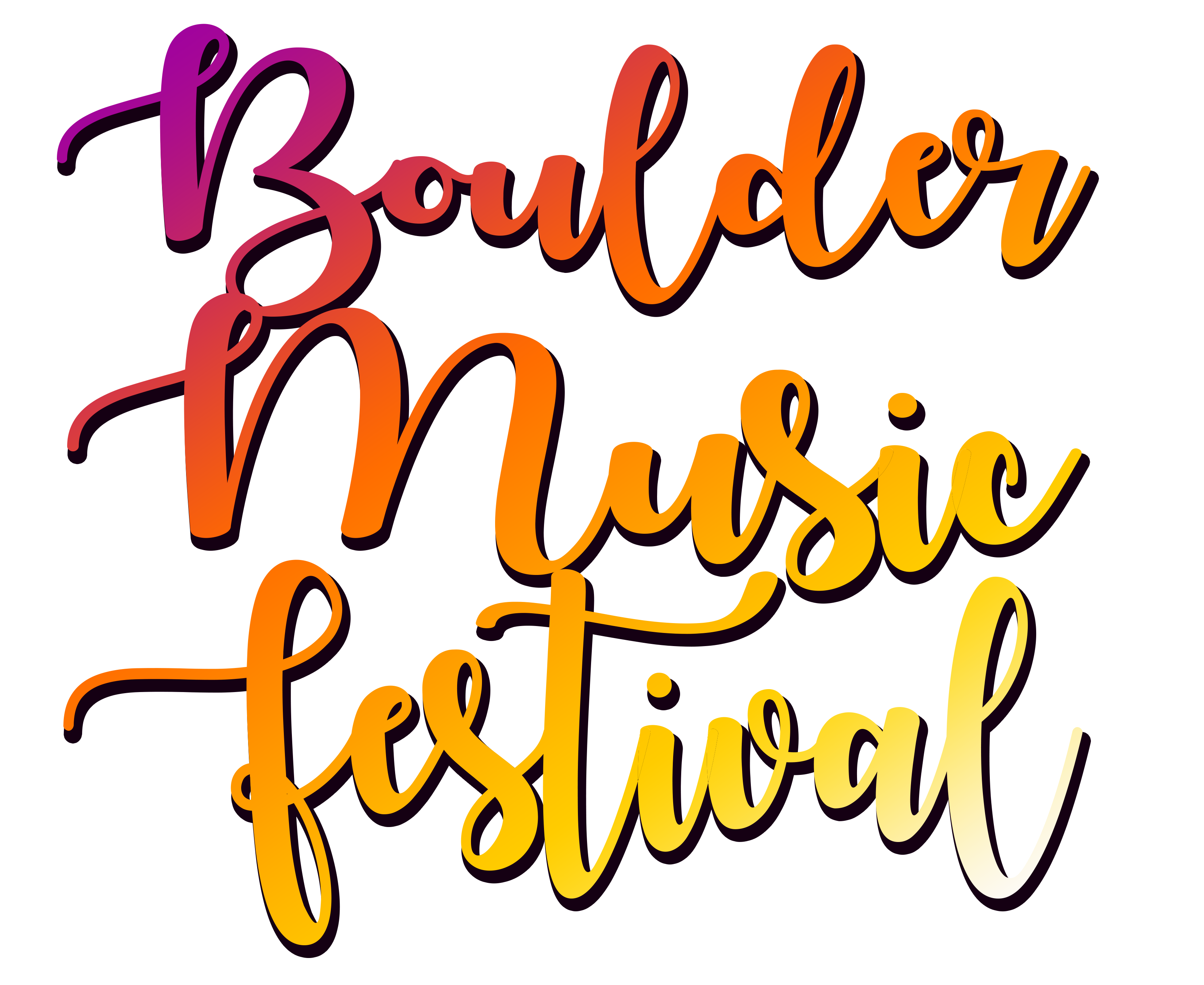 Saturday, October 5, 2019
12:00pm - 2:00am MDT
Boulder Music Festival, LLC